Update Notes: Tuesday, August 19, 2014
From the EQ2 Forums:
WEEKLY FEATURE

The Moonlight Enchantment merchants have new items available! All sorts of trees and shrubbery based on Ethernere foliage can now be purchased. Moonlight Enchantments begin on 8/20!

With Kerafyrm's defeat, Freeport and Qeynos have finally broken the Awakened siege, and Luclin – now whole – shines brightly in the skies.

GENERAL

YouTube integration has been removed due to incompatibilities with Google's API updates. Options are being explored to return video functionality.
ZONE PROGRESSION / POPULATION
The Fabled Deathtoll

Cruor Alluvium's Watery Grave ability now teleports players to more centered locations, ensuring they will not be as far out of heal range as they previously were.
Watery Grave no longer adds the 'sink like stone' effect, which may have been causing a minor bug.
Cruor Alluvium now adds only 3 stacks of Infudit Aquam per tick, instead of 4.
Cruor Alluvium now casts Inudit Aquam at the same speed (10s) throughout the fight. Previously he was casting every 5s up until he started electrifying the water.
In the Cruor fight, it should now be very apparent when you are marked with the ability to attack the gazer add.

QUESTS
Age's End Questline

The event hotbar will no longer clear when switching stances as a Beastlord.
Age's End: Pieces Assembled – The door to Queen Antonia's Chambers is less confusing now.
Returning to Jorlak after destroying the generator crystals will now update every raid member's Age's End quest or mission and will spawn Roehn Theer and Firiona Vie.

ABILITIES / ALTERNATE ADVANCEMENT
Assassin

Killing Blow will now properly trigger when using an elemental weapon.

Brawler

Tag Team now lasts 8 seconds when cast on someone who is not the brawler.

Dirge

Noxious Symphony now has a base radius of 100 meters.

Guardian

Defender's Charge now only gets a three times damage mult when in Recklessness and not the enemy's target. Non-Recklessness tanks will see no difference. Grit no longer applies damage reduction if the guardian is Reckless.

Troubador

Arcane Symphony and Elemental Concerto now have a base radius of 100 meters.

ITEMS

Unity now heals the priest and reduces in damage when the wearer is mentored.

PvP / BATTLEGROUNDS

The Warzone writ Warzone Devastation is now on a 20 minute cooldown, which is removed when hailing the Priest of Discord.
Niami Denmother has posted a preview image of what has been added in the Moonlight Enchantments this month…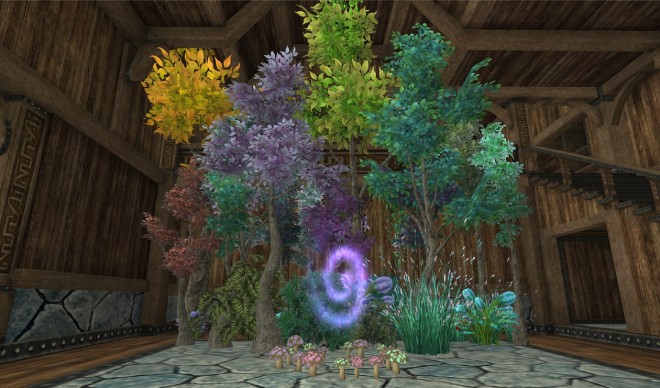 Trackback from your site.