EverQuest II Insider #1 on Twitch — Early Access to Quests/Zones, EQ2 Roadmap, What's Coming Soon!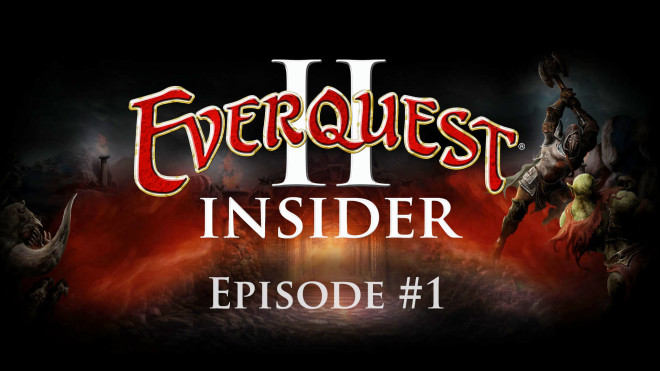 On Wednesday, April 2nd, 2014 at 2:00 PM PDT, EQ2's new community manager Margaret "Luperza" Krohn (aka PurrfectStorm), hosted the first EverQuest II Insider livecast on Twitch. This 1 hour broadcast included EQ brand manager Adam Key, Holly "Windstalker" Longdale, Akil "Lyndro" Hooper, Chris Garlick, Gary Daugherty, and Nathan "Kaitheel" McCall.
Alas, a recording of the livecast was not preserved either by SOE or Twitch (due to a settings glitch), so this episode joins Doctor Who and other vital shows as missing presumed wiped.
That said, a few resourceful players who watched the Livecast were good enough to take notes and so we can paraphrase them below:
Holly and Akil talked about current topics including Bristlebane Day, as well as previewing some Player Studio items that will be coming soon, including a very nice looking yacht or fishing boat with oars and other gear. Luperza mentioned that Player Studio topics will be covered in their own livesteam.
We got to hear the 'April Fool's intro music' (archived for posterity on Zam) and the new meatbeast vid was also shown (if you haven't seen it then look here).
Holly talked a little about All-Access (subscription, Krono, or Prepaid cards)

All Access players will get access to new zones / heritage quests 1-2 weeks earlier than other players.
Those with new All Access account will have double xp weekends.
More All-Access exclusive items on the loyalty merchants.

The schedule for updates will be more public so that we can see how Smokejumper's weekly/monthly update idea is working.

EverQuest II Roadmap/Blueprint — Upcoming plans for EQ2 with feedback from players.
Contested HighKeep Previewed

new skeleton models like crawling, one legged and some even use their head as weapon [IMG]
quests: drop quests, quests from items, daily missions for etyma (2 mission givers: 1 at entrance, 2nd at the entrance to picklaw part)
plunderable loot which you can place in your house
some items might be marked with our name (there is special achievement for marking all of them: Vandal title)
achievement for killing all nameds in the zone
hidden rare trophies in the trash – if you gather all you get Body Snatcher (?) title
new armor appearances

New High Keep Guild Hall
Player Studio will open up (later this year) to submissions from Germany, UK, France for players with an SOE Station account.
Developer picks for Housing Leaderboards — returning soon.
New Raid zone (ToV Wing 3) — Next Month
10 More AA points (requires level 95)– next week.
Thanks to Sambril, Kinya of Babagra Polish EQ2 fansite, and Errrorr for their note-taking!
Trackback from your site.