Drinal's Steward Tier 2 Heroic Armor and Jewelry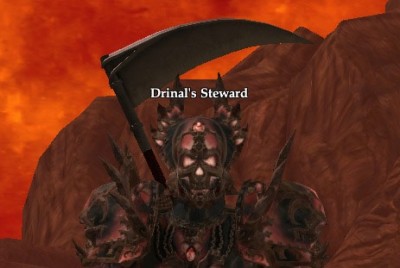 With Game Update 66 and the introduction of Siren's Grotto, it's now time to bump up the quality of heroic gear a bit. To do that, Drinal's Steward as started offering Tier 2 heroic armor. From Amnerys on the EQ2 Forums:
Good news! The Steward of Drinal now has Tier 2 Heroic gear available. Platinum prices on the Tier 1 Steward gear have been lowered. Greater Spirits and essences have also had their drop rates increased.
This is indeed good news, as there is certainly room for growth and a need to provide an obvious upgrade over the Advanced Solo rare drops.
However there are a few hiccups too. On the EQ2 Forums, players have renewed their objections to needing to run the 15 hour Chains of Eternity Solo Signature Quest line on each of their alts in order to shop Drinal's Steward's wares. While we've been able to buy a Steward's Key to share the Obol and Spirit love with our alts, this key has never unlocked the ability to buy from the Merchant. Thus far, the workaround for buying armor has been to swap characters around and trade it through the Shared Bank. However this won't work with Tier 2 gear upgrades.
From Gninja:
The steward has never allowed players to unlock buying his items using the key from an alt. There were issues with the questline that became broken if that part was skipped.

Instead the gear and items on the merchant were made heirloom so you can pass them to alts. I know this isn't a perfect solution but it is what we had to do. The key does however unlock access to Harrow's End and the ability to loot obols/spirits etc.
Players have long since shuffled around Drinal's Steward Tier 1 jewelry and armor on their alts. But once equipped, that gear becomes ATTUNED and thus non-tradeable. As a result, there is no way to shuffle this well-worn Tier 1 armor around and get it upgraded to Tier 2 through a Main. So for many, the addition of upgrades will be bittersweet. The EQ2 team have been reacting to player feedback and getting things fixed more regularly these days, so hopefully a solution can be found here.
Trackback from your site.