April Fools? Pink Bovoch Pricing Makes Players See Red
On Friday, a hilarious video of Tom Tobey and Christopher Atkins introducing new Meatbeast mounts and house pets was released. The video was extremely well-received and I and many others ran out to buy the new mounts and pets and galloped all over Norrath mooing all the way.
But today, it seems the EQ2 team may have pushed the April Fools joke too far.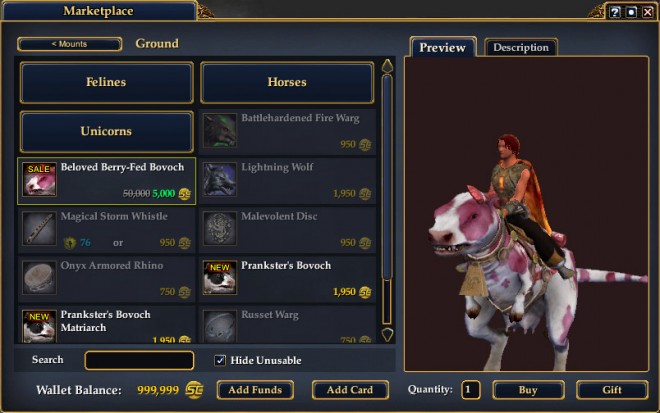 As was announced on Friday, a pink version of the Meatbeast matriarch mount is available TODAY ONLY (April 1st). What has players stunned is the price: 5,000SC. If you stocked up on StationCash over the weekend from Walmart, that works out to $18.75. If you didn't, you're going to be dropping upwards of $50. That's more than an expansion!
Further, players couldn't help notice that the original price is marked as 50,000SC 5,000SC. Players are not seeing the humor in that price markdown and instead wondering if the mount will jump to that price the next time it's offered. We've heard from a few players who were so excited to purchase this mount that they grabbed one without double-checking the price, and are now out 5k SC. Thus far, EQ2 mounts have hovered between 1,950SC and 950SC.
Further, players have expressed shock that it's not a Leaping mount, nor does it offer any bonuses to runspeed, beyond other mounts. You're literally paying for a re-color of the Bovoch mount added on Friday.
Bovinasauros Rex? Cetaceans!
Raph Koster wrote an article which has been heavily quoted on MMO sites about Free-to-Play and the existence of Whales or customers who will buy big ticket items on game marketplaces. Is this SOE's first foray into this category of high dollar items? Are they seeing a marketplace trend and simply getting on board with having a few rare items which are at a price beyond what most players would consider a sane purchase?
This is being discussed (raged) on the EQ2 Forums:
Trackback from your site.