Player Studio: Designers Helping Players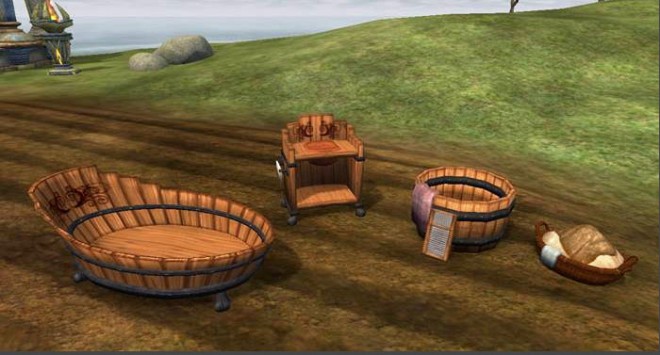 Player-created tubs and water closet items coming soon to EQ2
When the Player Studio forums launched, they were pretty quiet, with minimal developer interaction. Well, what a difference a few months take. Due to the incredible quality of items being submitted by players, and the need for more direct lines of communication between aspiring artists and the "official" game designers, we've seen the appointment of a full-time Player Studio artist liaison, and increased involvement of SOE staff.
Further, when the Player Studio forums relaunch next month, we'll see a totally revamped structure that fosters collaborative feedback between artists, as well as a venue for players to get useful instruction on getting started or polishing up a good item to make it great. It will allow players to really showcase their work and seek input from players on what items they'd like to see next.
I'm a strong believer in getting players involved in contributing to games they are passionate about. The notion that players are unable to grasp the complexity of creating 3D objects, designing a dungeon, or developing a Data-driven fan site have proven to be nonsense. While some hesitation from the artists, designers, animators, and programmers whose careers are built on delivering these things to players is inevitable, as we'veseen with MMOs old and new, there is more than enough work to go around.
The EQ2 team are already nose-to-the-grindstone on the upcoming Game Update 66 and so it's great that players can chip in and contribute our own bits to the game, and then share in the proceeds. There is no doubt that Player Studio will be a cornerstone of the upcoming EverQuest Next, and goodness knows we've heard the "sandbox" buzzword often enough, but how far will they go with player collaboration? Hopefully it's nothing less than a brave new Norrath.
Trackback from your site.