StationCash Bonus at Best Buy, Mounts on Sale, Facebook "Like" for Special Mount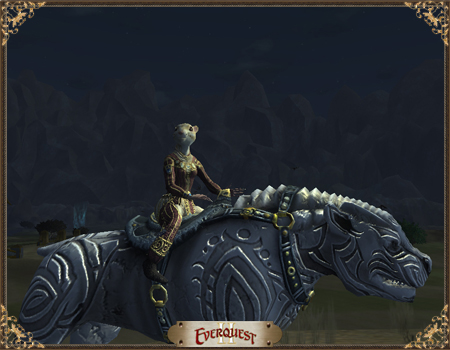 Those Walmart 1500+500SC cards aren't going away, but if you redeem a 1500SC/30-day Game Card from Best Buy this weekend, you'll also get 500SC bonus. From the EQ2 Forums:
Get a 500 Station Cash Bonus when you buy a $15 SOE Pre-paid Game Card at Best Buy and redeem between August 17-19th.
If you are a Facebook junkie and have yet to "Like" EverQuest II on their Facebook page, read this from the EQ2 Forums:
The Facebook Quest continues for EverQuest and EverQuest II!

Each game is striving to get an additional 3,000 likes on each of their Facebook pages. If this quest is completed, the reward is a mount — an Opalescent Prowler for EverQuest II.
Finally, this weekend, in-game mounts are on sale:
This weekend only (August 17-19, 2012), take advantage of great discounts on mounts in EverQuest II. Whether you prefer to stride across the Commonlands on the back of a Blood Roan Stallion or take to the skies above Halas perched on an Iridescent Swiftwing, you can run, leap, glide, and fly in style and save some Station Cash too!
Trackback from your site.