The Skyshrine Gear Reset: Putting All Your Eggs in One Update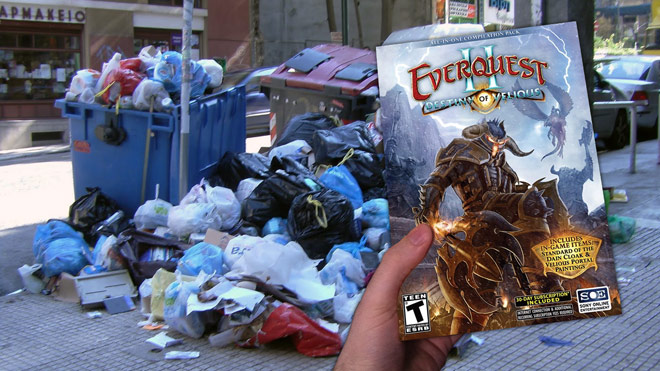 If there is one thing that must surely keep the producers and designers of MMOs up at night, it's the pace at which players complete their content.
It takes months and months to conceptualize, design, create, populate, and script quality MMO content.  The producers and designers always start out with the best intentions of wanting their content to be fun and for the rewards to be commensurate to the challenge. But those goals must at some point take a back seat to the First Commandment of MMO design: Thou shalt make content that lasts!
There are only so many tools in the MMO designer's arsenal for stretching out content to stave off player boredom. These include:
Access Quests
Reduced Experience (XP)
Slow Respawns on named enemies or enemies needed for quests
DPS Checks — Enemies that become exponentially more difficult the longer it takes you to beat them
Threshold Statistics — like Critical Mitigation and Crit Chance — whose minimum values must be met before content can even be attempted
Unbeatable enemies due to fight mechanics, unavoidable Area of Effect damage, and plain old bugs!
These gating mechanisms are all artificial ways to keep your players from finishing the MMO 'race' faster than you can build more lands. They tend to be unpopular with players, but the alternative is content being cleared in a manner of days/weeks and then months going by before new content can be added. This is one of those unavoidable aspects of MMO design that turns designers and developers into gatekeepers and players into pitchfork-wielding hordes.
Velious and the Fortress of Drunder
When Destiny of Velious hit the Beta servers in early 2011, players were absolutely floored at the difficulty of everything. Solo quests, the easiest Heroic zones, contested Kael Drakkel, and of course the raid zones all required godlike equipment and skill. The difficulty was gradually toned down before release and further in the months following Velious, but it was clear that a design decision had been made to retain a Rate of Progression much slower than past expansions.
When the Fortress of Drunder was opened in August 2011, once again players immediately commented on the steep Rate of Progression and gear requirements of these zones. Raiders complained bitterly of Critical Mitigation and Critical Chance benchmarks that required extensive grinding of outmoded content in order to meet standards that left no margin of error, as well as mechanics bugs on various fights that kept certain bosses unkillable for months.
"The gear you need to complete the zone is better than the gear that drops in the zone."
Heroic players were no less stymied. Completing the three Drunder heroic instances was not a foregone conclusion for most groups until months after their introduction with Game Update 61. Indeed, it was de rigeur for most group leaders to demand raid gear to even attempt Drunder instances. The Drunder group zones, as well as the Citadel of V'uul x2 Drunder raid zone all seemed to operate on the philosophy "The gear you need to complete the zone is better than the gear that drops in the zone".
In short, Destiny of Velious and Game Update 61: The War of Zek reinforced a Rate of Progression that can best be described as "slow burn". Players tallied and adorned for Critical Mitigation like a retiree clipping coupons. The rate of progress for raid guilds was positively glacial. Even SmokeJumper jested that "maybe we made the raid content too hard". It was not until mid-February 2012 that the first EQ2 guild unlocked the Plane of War by clearing the Fortress of Drunder HM (challenge) raid zones introduced 6 months prior. Of course it then became apparent just how unfinished the enemies and itemization of the Plane of War were.
Setting Goals
According to Dave "SmokeJumper" Georgeson, and EQ2's current marketing campaign, EverQuest II is all about Playing Your Way. This reinforces not only the Free-to-Play concept but also the variety of gameplay styles that EQ2 players have. Crafter, Casual, Grouper, Hardcore. These can all apply to any of us at different times.
In between working on EQ2Wire and EQ2U, I've tried to set some goals for myself. In addition to participating in highly successful pick-up raids for Tower of Frozen Shadow x2 and Drunder's Tower of V'uul x2, expertly led by a friend who goes by the name Flourchild, it has been a goal of mine to work the line of progression towards more Drunder groups and even raids, starting to unlock more War Runes on my character, and trying to stretch ourselves further into this challenging content.
To this end, I assumed that Game Update 63 would add new solo, heroic, and raid content that complements and builds upon the existing Destiny of Velious and Fortress of Drunder progression and, more importantly, itemization. Well, you know what you get for assuming…
The Great Gear Reset of Game Update 63: Skyshrine
EverQuest II: Age of Discovery (released in December 2011) redefined the idea of an Expansion by adding Features rather than new zones, quests, and content. Many people derided it as a "feature pack" or "paid game update".
Game Update 63: Skyshrine (released April 2012) has now redefined the idea of a Game Update by introducing not only new solo, group, and raid content, but also raising the level cap to 92. Many people are calling it an "expansion" for this reason.
As awesome and well-polished as the content in Game Update 63 may be, with the most elaborate art design we've seen yet, we're still talking about two large zones, one of which has been recycled multiple times:
Withered Lands — 1 overland solo zone with a few heroic and raid mobs mixed in
Skyshrine Solo/Duo/Molo — 3 daily missions solo, duo, or solo+merc
Skyshrine Group — 3 Heroic dungeons
Skyshrine Contested — 1 Contested zone smaller than Sebilis
Skyshrine Raids — 3 Raid zones, one of which is a single mob
According to the Revised Game Update Schedule, Skyshrine is possibly the only level 90+ content we can expect until November/December 2012 when we'll see, according to sources at SOE, another redefinition of what defines an expansion.
"Thou shalt make content that lasts!" — The First Commandment of MMO Design
So is Game Update 63: Skyshrine a good custodian of this rule? Let's take a look at some of the new Withered Lands and Skyshrine gear and see how it stacks up to Destiny of Velious or Fortress of Drunder gear.
Tags: game update 63
Trackback from your site.