EpicSlant's Adam "Ferrel" Writing Book "A Raider's Companion" — You Can Help!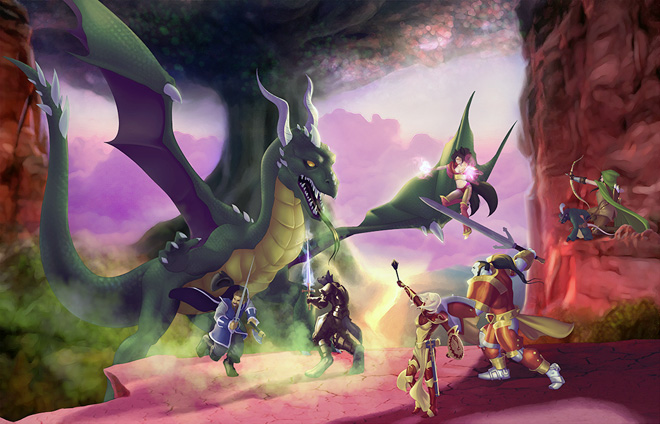 Some of you may be familiar with Adam "Ferrel" Trzonkowski, if not by name than from reading his gaming perspective site EpicSlant.com or from hearing the "A View From the Top" podcast which he co-hosted with Massively's Karen Bryan, or perhaps his current Multiverse Podcast. What you may not know is that Adam is also a published author!
Earlier this year, Adam put down into words his many years of experience as a guild leader in a How To guide called The Guild Leader's Companion. Containing tips, suggestions, and humorous anecdotes, it's a virtual manual for running a guild and dealing with the interpersonal conflicts that inevitably arise. The Guild Leader's Companion was self-published in hardcover form on Amazon and as an e-book.
Now Adam has written a new book — The Raider's Companion — but he needs your help!
After the jump, an explanation and further backstory on the project…
Hello all!  My name is Kristen "Aurelis" and I'd like to have a chat with you about some things that may or may not be a part of your EQ2 experience: guilds, raiding, and books.  Or rather, books about guilds and raiding!

The community in EQ2 is a vast and varied one, ranging from those that solely roleplay to those that solely raid.  There are also those that just exist because someone likes or wants to have a certain tag under their name for the fun of it — I had one of these on Bazaar!  However, true guilds, true organizations of people striving toward some common goal, whatever that may be, usually need a leader or group of leaders.  How do these leaders gain the experience they need to guide others to victory in being the best band of singing bards or the most successful raiders?

Typically that is done through trial and error but it doesn't necessarily have to be that way.  Adam "Ferrel" Trzonkowski has many years of experience when it comes to leading a guild under his belt and a while back he wrote a book to help others learn from his greatest triumphs and most painful mistakes, The Guild Leader's Companion.  I really recommend picking up a copy either in physical book form (how can you resist the feel of a real book in your hands?) or as an e-book.  Even if you are an experienced guild leader, everyone has room to grow and learn and you might discover a new way to keep your people in line and happy.

Now, if you didn't know about this book, you may not know that he is already working on a second one!  It is geared toward raiders and is aptly named The Raider's Companion.  The manuscript is written but that is not all that goes into getting a book off his desk and into your hands.  A lot was learned from his first book and this time he wants to do an even better job including art assets (which look fantastic so far) and a more professional polish to the book itself.

Of course, all of these things cost money.  To counter this Ferrel has started a Kickstarter project to raise the funds.  Let me take a moment to make some things clear about how Kickstarter works, as I had never heard of it before, either!  Most importantly of all, you aren't charged a cent until the end of the project date (November 24) and that is only if it succeeds.  If the project doesn't reach the $4,000 goal, then it was like you never pledged your money.

However, if it does succeed, then not only have you made a gnoll very happy but you'll also get something in return depending on how much you offer in support of the book.  You can get a full color print of the cover when it's done for only $10.  There are rewards for higher pledges but honestly, think of it like DPS – sometimes having only a few people doing a lot of damage isn't going to cut it, but a lot of people doing a little will add up.  Every person that increases the DPS by even 1 point pushes the bar closer toward success.  Yes, even $1 helps!

The book will have something both for those that are new to raiding and those that are seasoned raiders.  Even if you're doing old raids like the Djinn Master, you're delving into new content from the latest expansion, or you raid in an entirely different game altogether, there are universal concepts, strategies, and best practices you can pick up and run with to reach success.  And if you have no interest in the book at all, just think of the people that won't be able to add it to their library because you didn't pass the project link on to your friends that would have supported it!
Comments about his previous book:
This book is a great read, it covers a ton of issues that you will experience as a guild leader or even if you are a supervisor in a real job. If you are new to guild leadership, it will give you the tools to know what you are getting yourself in to. It has helped me think outside the box when dealing with my own guilds issues.
and:
[This book] is an absolute must-have for any player considering guild leadership or wanting to know the "best practices" of successful leadership. The author has a wealth of experience and had to learn — at least initially — under the pressure of having a leadership role thrust upon him.
Trackback from your site.