EQ2 Panel #1 – Freeport and Beyond
Starting the EverQuest II: Freeport and Beyond panel…

Pre-panel Buzz: EQ2Players is being replaced with a new site. Sometime this year, it's a priority, which it hasn't been before.
Dave Georgeson starting the panel. There's so much info, they'll be giving that first and then Q&A at the end.
Update: This is a video of EverQuest II Panel #1 "Freeport and Beyond" added on July 14, 2011.
Game Update 61
Dynamic Dungeons
* New versions of Silent City and Djinn Master's Prism.
* Encounters are randomized when you enter
* Dungeons scale dynamically 60-90
* Test bed for a new flavor of content creation.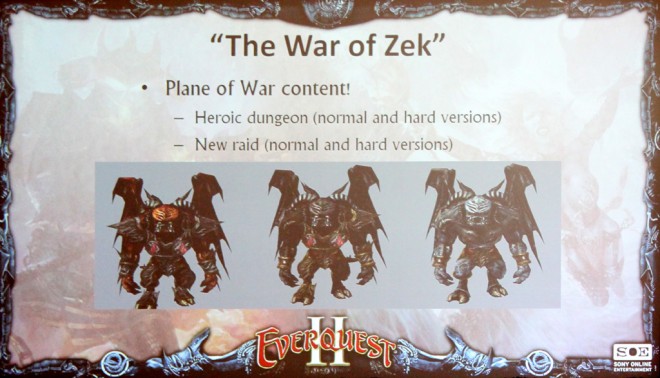 The War of Zek
* Plane of War content
* New dungeon (normal and hard)
* New raid (normal and hard)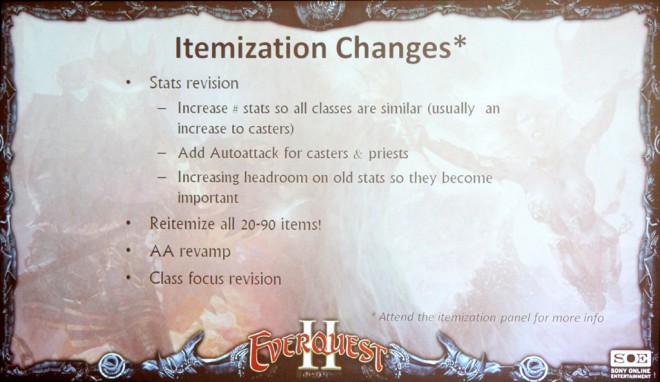 Itemization Changes
* Stats revision
* Increase # of stats
* Add autoattack for casters and priests
* increasing headroom on old stats
* Reitemize 20-90
* Major AA revamp
* Class focus revision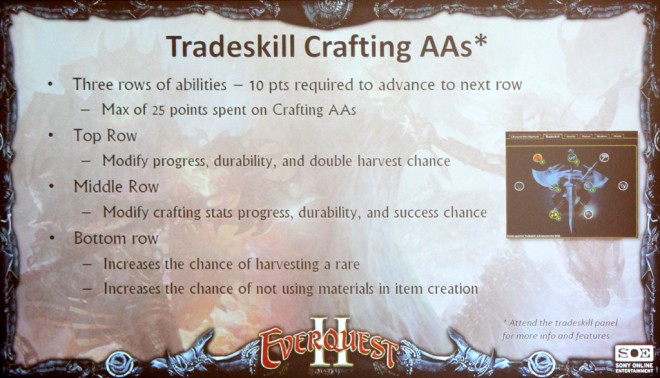 Tradeskill Crafting AAs
* 3 rows of abilities — 10 points each row. max 25 points for crafting AAs
* Progress, Durability, Double Harvest Chance
* Crafting Stats Progress, Durability, Success Chance
* Increase chance of harvesting a rare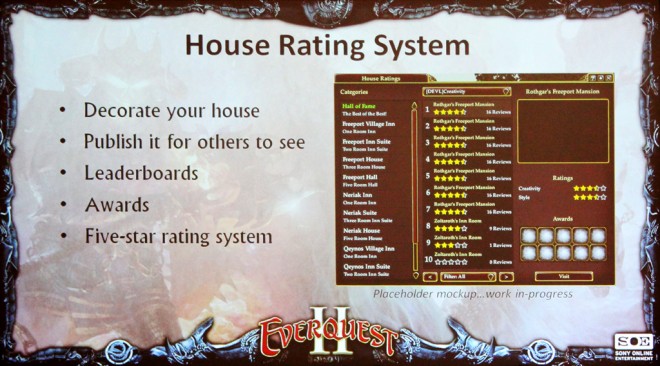 House Rating System
* Decorate your house, publish it for others to see
* Leaderboard (48 hour falloff)
* Awards for staying on leaderboard
* Hall of Fame system
* 5 star rating system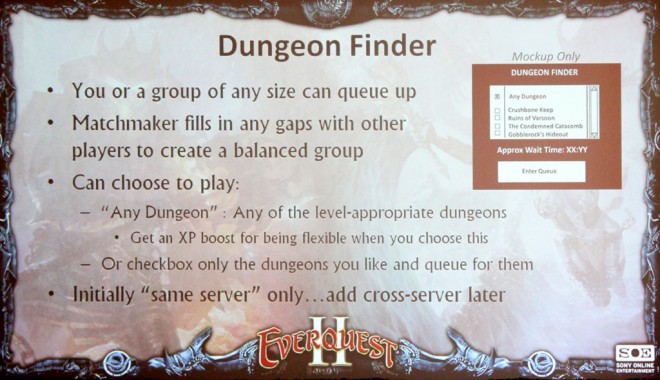 Dungeon Finder System
* Any size group can queue up
* Matchmaker system. you can disband if you want.
* Any Dungeon
* Get XP boost for being flexible
* Initially same-server only, cross-server later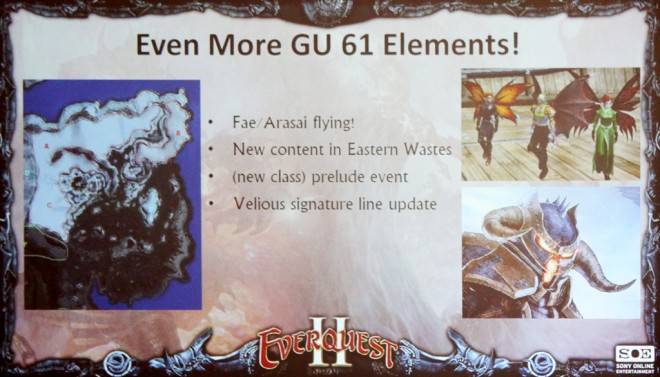 GU61 More stuff
* Fae/Arasai Flying (level 85, must complete a quest)
* New content in Eastern Wastes
* Beastlord prelude event
* Velious signature line update
Game Update 61 is released in August
Now let's look ahead to November…

Freeport — Lucan Gets Serious
* Lucan's Lore — Lucan was kidnapped
* His captor was killed
* Lucan crushed his usurpers, levied a new army, and now seeks to dominate and control
* Freeport revamp will have a ton of lore related to it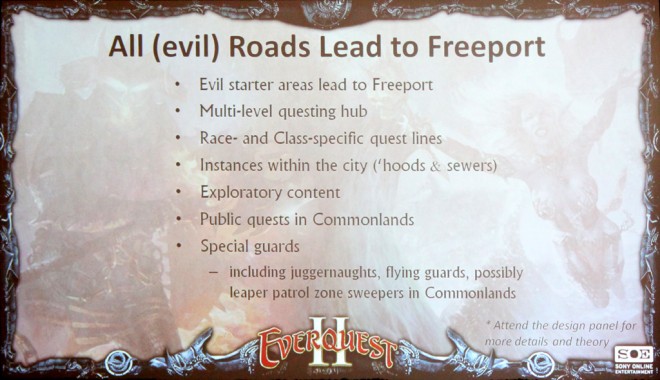 All (Evil) Roads Lead to Freeport
* Evil starter areas lead to Freeport, not Butcherblock Mts
* Multi-level questing hub
* Race and Class specific quest lines
* Instances within the city (hoods, sewers) — some quests will cause NPCs to attack
* Public quests in Commonlands
* Special Guards watching the area around Freeport (leapers and gliders, juggernauts)
* Exploratory content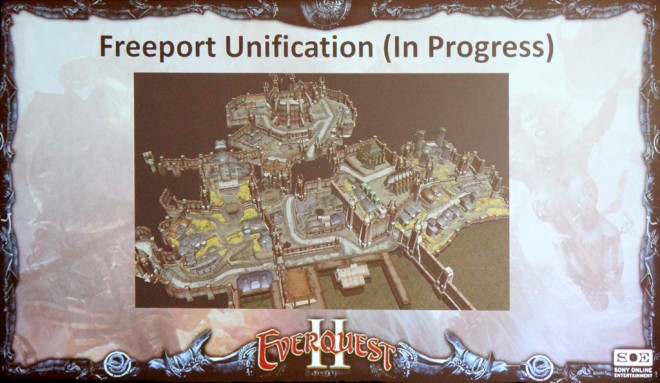 Freeport Unification (in progress)
* Entire Freeport city can be explored without zoning, excluding the suburbs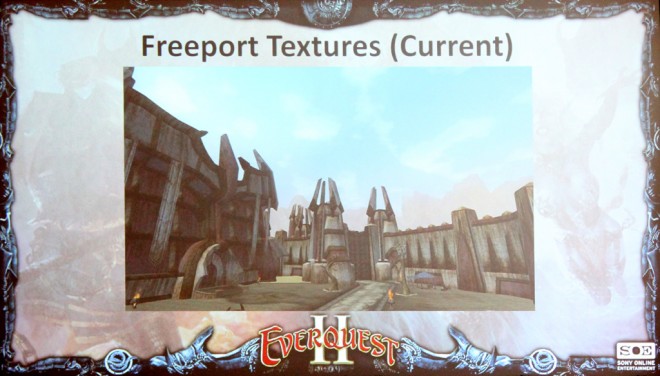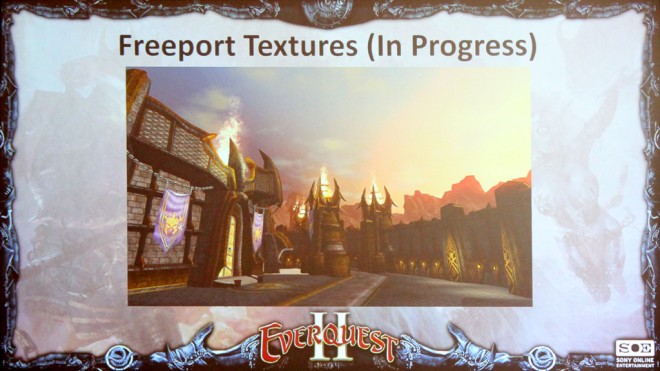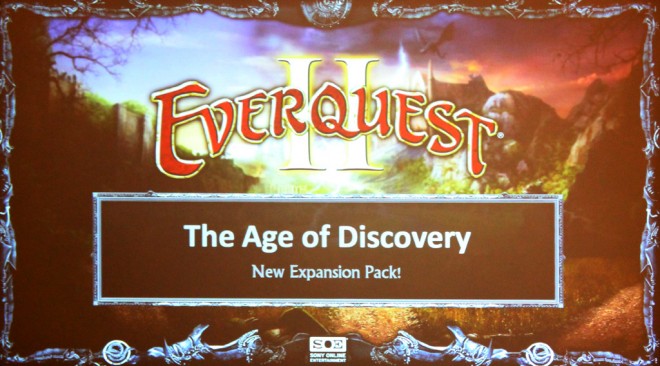 The Age of Discovery expansion
Chock Full of Features
* The Age of Discovery focuses on features that open up new ways to play the game.
* Game Updates is where the content/zones are.
GU61: BYOD (August)
GU62: Freeport (November)
GU63: Velious (February)
GU64: Velious (May)
GU65: Qeynos (August)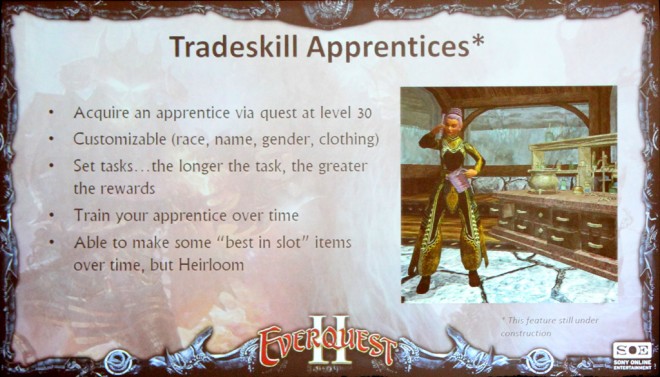 Tradeskill Apprentices
* Acquire an apprentice via quest at level 30
* Customizable (race, name, gender, clothing)
* Set tasks, the longer the task the greater the reward
* Train your apprentice over time
* Able to make best-in-slot items over time but Heirloom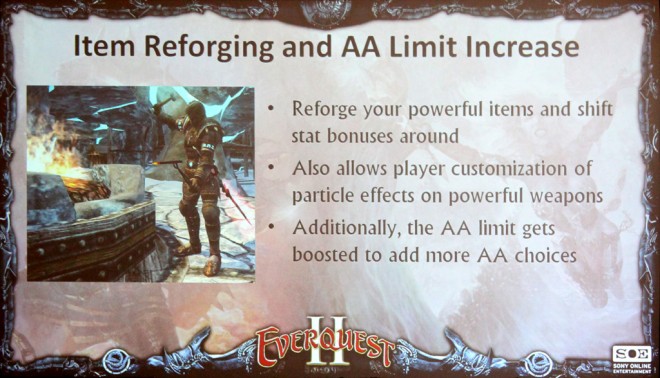 Item Reforging and AA Limit Increase
* Reforge your powerful items and a shift stat bonuses around
* Allow player customization of particle effects on powerful weapons
* Additional the AA limit gets boosted to add more AA choices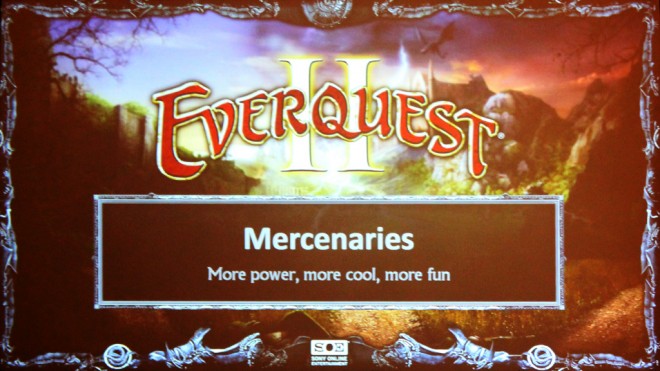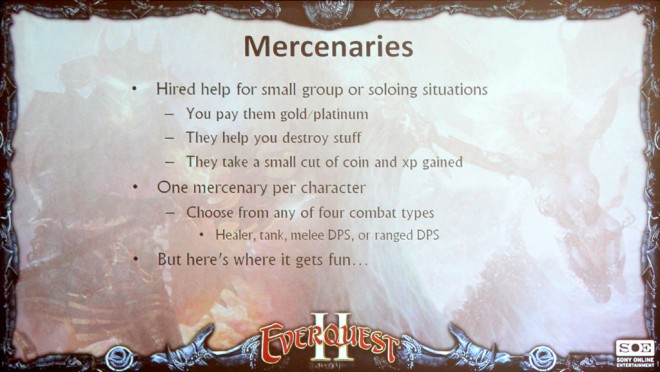 Mercenaries
* Hired help for small group or soloing situations
* You pay them gold/platinum
* They help you destroy stuff
* They take a small cut of coin and XP gained
* One mercenary per character
* Choose from any of four combat types
* Healer, tank, melee DPS, ranged DPS
* But here's where it gets fun….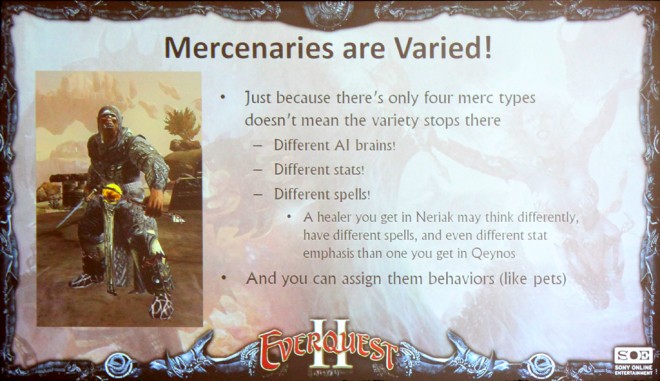 Mercenaries are Varied
Just because there's only 4 merc types doesn't mean the variety stops there
Different AI brains
Different stats
different spells
A healer you get in Neriak may think differently, have different spells, even different stat emphasis than one you get in Qeynos
And you can assign them behaviors (like pets)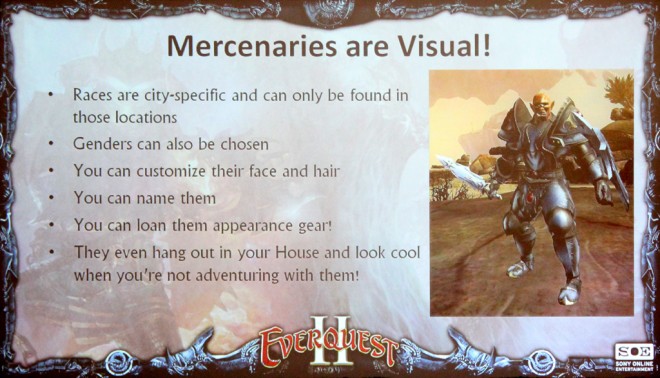 Mercenaries are Visual
Races are city-specific
Customize appearance
Some are merchant bought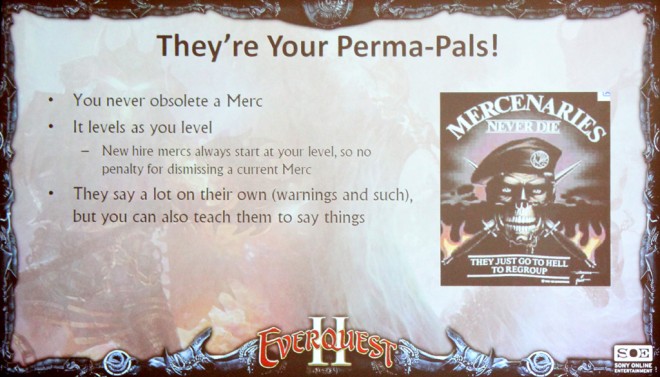 They're your Perma-Pals
They level up, you never outgrow them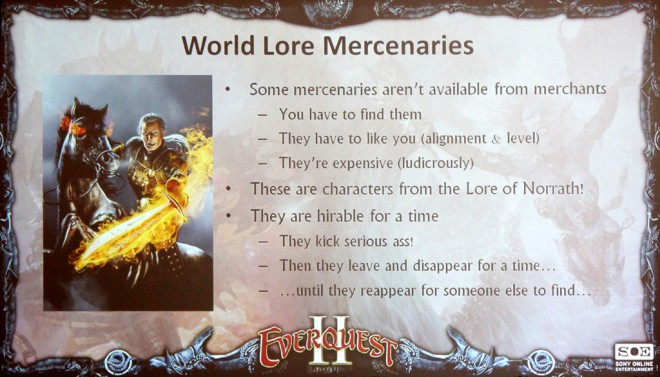 World Lore Mercenaries
Some mercenaries aren't available from merchants
You might be able to hire Lucan for 1000p per hour
Hirable for a time
Characters from Norrath
Extremely rare spawns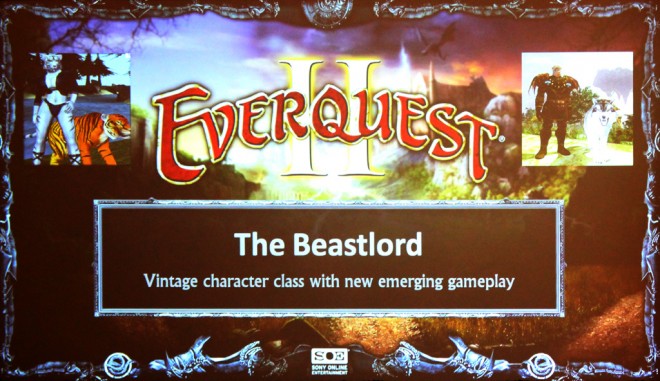 Beastlord
Vintage character class with new emerging gameplay
DISCLAIMER WARNING
What you are about to hear about the Beastlord is subject to change!!!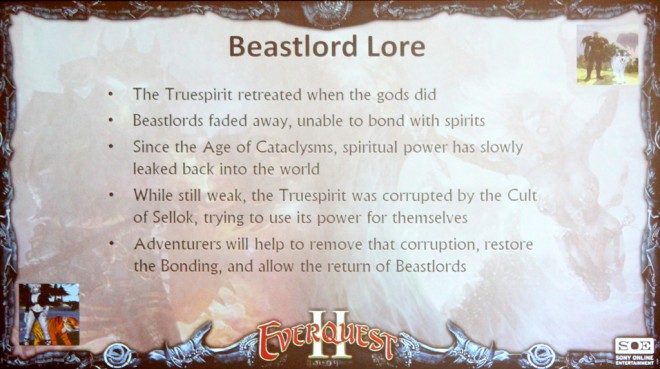 Beastlord Lore
The Truespirit retreated when the gods did
Beastlords faded away, unable to bond with spirits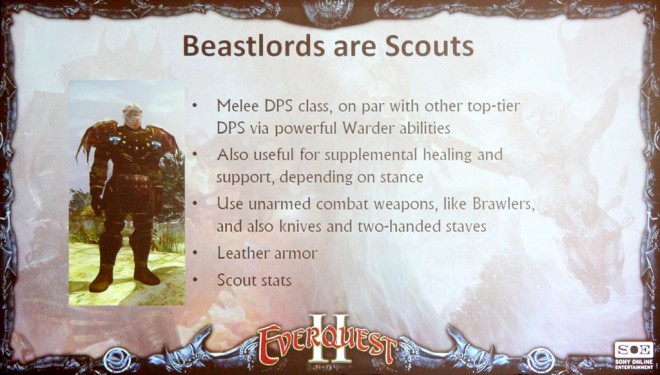 Beastlords are Scouts
* Leather wearers
* Brawler like weapons
* Melee DPS class, on par with other top-tier DPS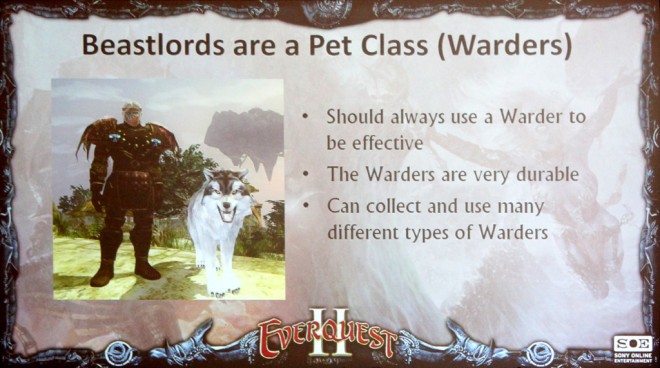 Beastlords are a Pet Class (Warders)
* Pet class on Steroids
* Should always use a Warder to be effective
* Can collect and use many different types of Warders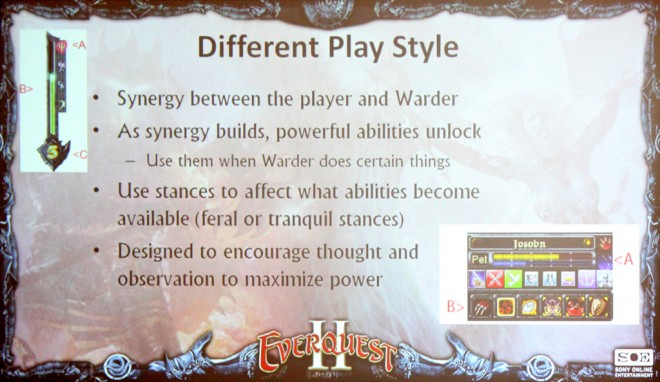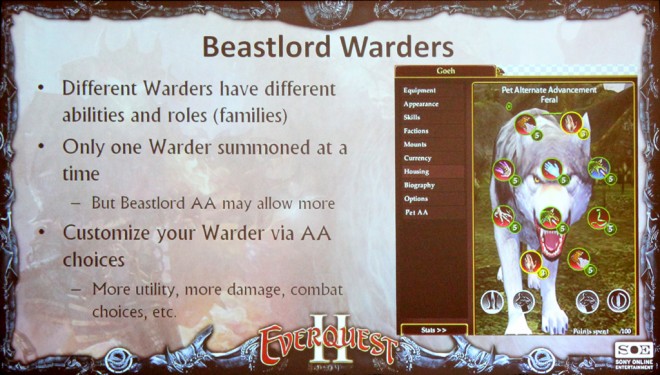 Beastlord Warders
* Different Warders have different abilities, hotbars, AA lines
* More utility, damage, combat
* Use stances to affect what abilities become important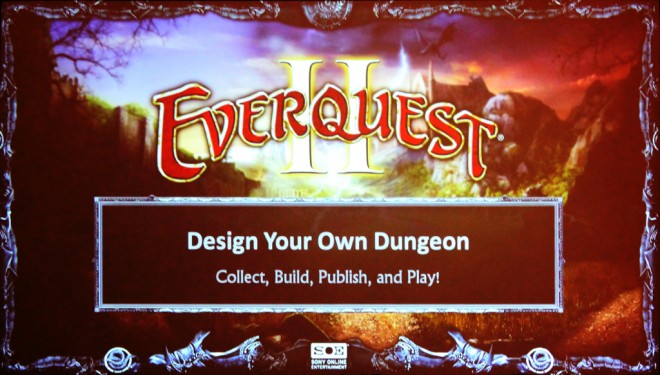 Design Your Own Dungeon
— a feature so powerful, it deserves its own presentation
DISCLAIMER — Mock-up art, this is work in progress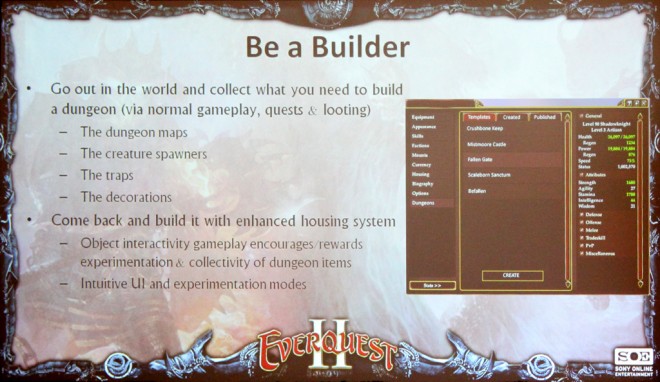 Be a Builder
* Dungeon Maps, Creater Spawners, Traps, Decorations you have to go out and quest, raid, tradeskill to get them
*Come back and build with the enhanced housing system. You teleport into the dungeon and you get an extremely advanced housing interface. Housing will eventually get the new design system.
*Intuitive UI and experimentation modes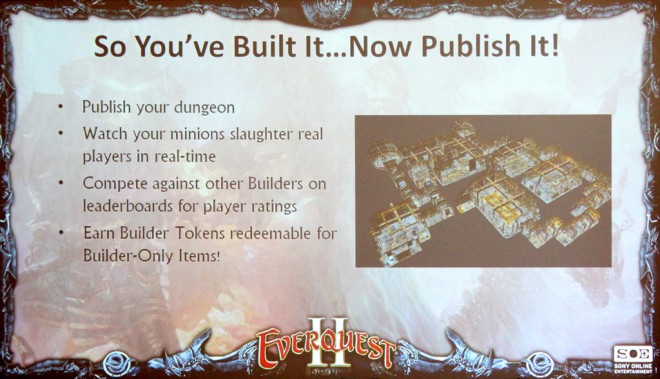 So you've built it, now publish it!
* Publish your dungeon
* Watch your NPC minions slaughter real players in real time
* Compete against other Builders on leaderboards for player ratings
* Earn builder tokens redeemable for builder-only items. BYOD items only available for Tokens
Builders get Reputation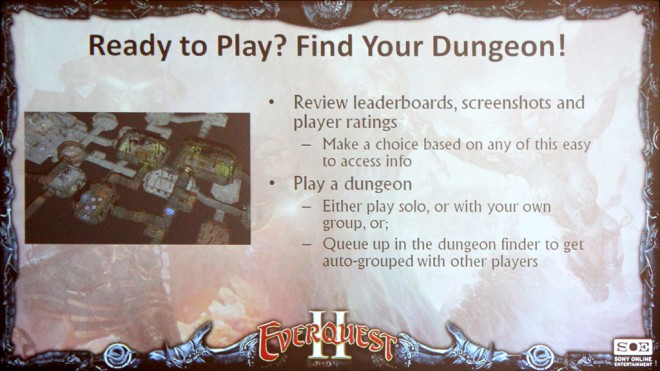 Ready to Play? Find your Dungeon
* Shows up in the Dungeon Finder System
* Review leaderboards, screenshots, player ratings
* Play solo, or woith a group. all part of the dungeon finder system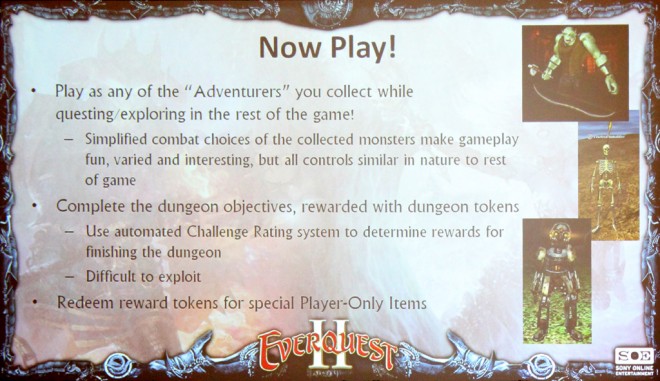 * When you enter a dungeon, you are collecting adventurer NPCs to run the Dungeon. The NPCs have a limited set of abilities. You cannot play a player-made dungeon as your own character. (groan)
* Tokens to buy loot for your real characters.
* How do you keep from exploiting these zones by making an easy zone with just mobs?
* When we launch, there will be one game type, Survive through the dungeon and kill boss at the end.
* Automated Challenge Rating system to determine rewards for finishing the dungeon. Difficult to exploit. The creator script detects the difficulty of the zone by determining the shortest path in the dungeon.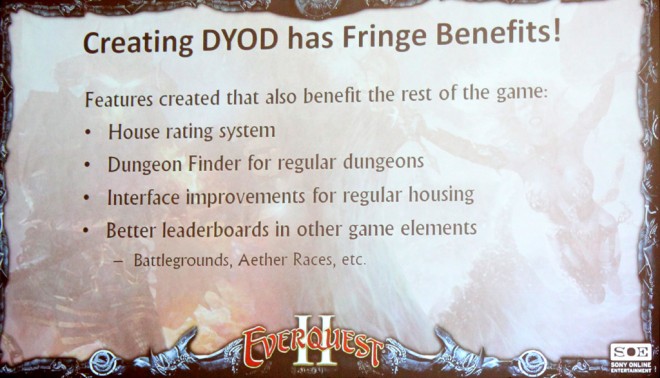 DYOD has Fringe Benefits for the rest of the game:
* House rating system
* Dungeon Finder for regular dungeons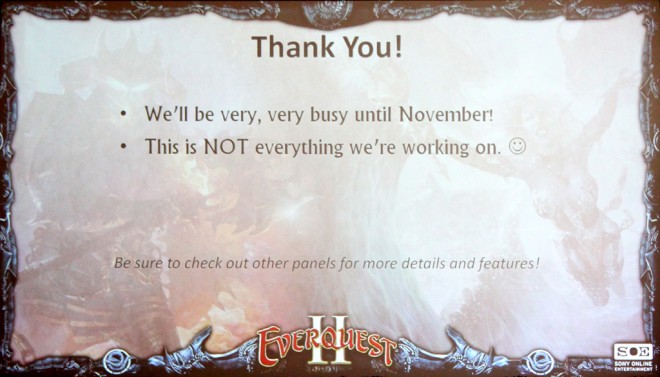 Q&A Begins
Q: Will Mercenaries be usable in PvP?
A: We'd like to, but we will have to test it first.
Q: Mercenaries in raids?
A: You can, but they take a slot, and cost money.
You can't equip power gear on Mercenaries, just Appearance gear.
Q: House Rating System apply to Guild Halls?
A: Apparently we have a blind spot for Guild Halls
Q: With DYOD, will Arena Champions get updated?
A: We've had a discussion.
Q: Will best-in-slot items be made by tradeskillers?
A: The components for those items might come from raids. It's a case-by-case basis.
Beastlord is a Scout class with a Warder pet, but they are not a powerful scout without the Warder.
Q: Will Summoners get their own AA tree?
A: No plan. A summoner is a mindless minion, he's not a sentient pet. When I raise a tiger that I found in the wild, it's growing up with me, gaining abilities.
Q: 50% of Summoner DPS is from the pet. Is it the same for Beastlord/Warder?
A: That's not going to happen. We're not going to make summoners obsolete.
No character will be able to get every Mercenary since they're in different zones, alignments.
If you have a Warder, you should be able to use a Petamorph wand.
Q: Do you get XP from running a DYOD?
A: You get bonuses/rewards at the end of the dungeon. We have not talked about XP so we need to talk about that. You don't get any XP during a DYOD.
Q: Freeport revamp, can we get those lazy stonemasons to straighten up the walls inside Freeport houses?
A: I think Lucan is worrying about the city first, maybe the housing later.
Q: Can you explain yet another AA revamp?
A: More details in Mechanics panel tomorrow. We're not taking away a bunch of AAs and redoing them. We're taking a look at AAs that aren't really used, mostly in the Class page. Getting rid of the "webbing", cleaning up the tree. We're giving you more choices. Rows instead of 'webbing'. You should not have to relearn your character.
Q: Is Beastlord prelude quest a server unlock can you just play?
A: It's just a quest. You can play Beastlord on day 1.
Q: Will Beastlords have a mythical weapon?
A: They will be fully itemized, they'll have a mythical, they'll have a class hat.
Q: With DYOD, what's the lowest possible reward? Is it possible to make a dungeon that is so low rated you get no reward, no token?
A: Yes, you can get no token for an empty dungeon.
Q: What came about to make the EQ2 team want to do Beastlords after banning the word on the forums?
A: It is the only class we didn't have from EQ1. Beastlord is a really fun class. We know you guys have been wanting one. You guys have been asking for them for years.
Q: Are we getting Dyable armor?
A: Oh actually, No. You can't believe how difficult it would be for us to put it into the game. It sounds so stupidly simple but it's not.
Q: Are you doing anything about gear as far as brawler drops in raids?
A: Beastlords wear brawler gear but with scout stats. Reitemization makes this possible too.
Q: Will Freeport revamp work with Shader 3? there are many particle effects
A: I hate Shader 3.0. Actually it looks awesome, we just hate having to fix things all the time.
Q: With Freeport revamp, will my Iksar be homeless?
A: With the revamp, you'll access housing a bit differently (lots of silly stuff)
Q: Will Beastlords and Warders be able to complete each other's HOs?
A: Hell, they complete each other's sentences. You fight normally, normal CAs, your Warder pet opens up opportunities with the Synergy bar that gives you cool abilities. Team attacks.
Q: Beastlord pet armor?
A: Not sure if we have the time to do this. It would be epically awesome and we'd like to do this. Adding armor to all the Warders probably won't happen on day 1.
Q: Will Shaman pets get any love in the character model department?
A: Xelgad would like to give different pets or update them.
Q: Can you replace the appearance of one Warder with another?
A: No.
Q: Reforging gear, changing stats around? Can you change numbers around?
A: Convert a particular set of stats into "points" and then spend them differently. You can't manipulate different stats, just convert one.
Q: Swashie throwing weapons?
A: We got rid of that requirement of throwing weapons for the Combat Arts a while ago. You can use a Bow. With the item revamp, there will be more throwing weapons throughout the itemization.
Q: Will a player with only Good characters be at a disadvantage with the Freeport revamp?
A: You'll be able to get access to the same type of content with next summer's Qeynos revamp.
Q: Will Warders be AoE immune?
A: AoE immunity is something I'd like to see, but we have to see how the balance goes.
Anything a brawler can equip, a Beastlord can.
END PANEL
This was a Live Blog by EQ2Wire.com from SOE Fan Faire 2011 at Bally's in Las Vegas, NV.
Trackback from your site.