EverQuest 2 Mobile for iPhone, Droid, Blackberry Now Available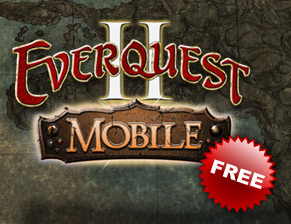 From EverQuest2.com/Mobile:
EQII Mobile is a new cross-platform mobile application that bridges the game world and the real world. EQII Mobile allows you to connect to EverQuest® II remotely and interact with various game features while communicating with other players in-game. Whether on the road or in your on home, EQII Mobile links you to information and social tools that keep you connected.

Available for Android, iPhone, and BlackBerry devices on or around January XX, 2011. Direct purchase links to web stores will be added in the order of when the multiple device applications are released (each device has different release schedule).
In-Game Chat & Mail – Stay connected with friends! Chat through any world or guild channel and send in-game mail messages.

Character Profile Access – View your character stats, including faction, achievements, current equipped items and more…

Guild Tools – View your guildmates online status and map location.

Norrath Map Indicator – View your characters current location and nearby landmarks.
Read More at EverQuest2.com.
Commentary
Players are reporting that some of the data coming through the feed is out-of-date or deleted characters.
Tags: EQ2 Mobile
Trackback from your site.