Love is in the Air – Erollisi Day Returns!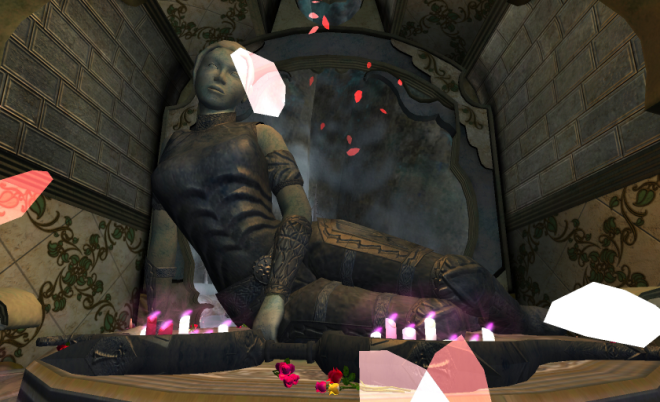 Love is in the air: Erollisi Day has returned! This year the event will begin at 12:01am PT on Thursday, February 9th and conclude 11:59pm PT on Tuesday, February 21st. There is one new quest, a new recipe scroll, several merchant items, and a new achievements to enjoy on top of all previous returning content. Check out EQ2 Traders Corner for DenMum's pictures of this year's holiday items. TLE servers can enjoy the entire event!
Too many alts? Get the Erollisi Day quest tracker! Print it out or copy it to your own Google Drive by going to the File menu and choosing "Make a copy…".
---
Achievements
(NEW) Tender Traps in Obulus Frontier
Collect love notes and candy in Obulus Frontier.
Heart of the Shattered Lands
Collect love loot from races that found refuge in Qey & FP.
Doomed Lovers
Collect love notes and candy from the undead.
Thalumbra Lovers Do It Deep
Collect love notes and candy in Thalumbra.
Passions of Kunark
Collect love notes and candy throughout Kunark.
Love Found in Innothule
Collect love notes and candy throughout Innothule.
Love on the Shattered Seas
Collect love loot in the Tranquil & Phantom Seas.
Love is Eternal
Collect love notes and candy throughout the Ethernere.
Burning Passions in a Frigid Land
Collect love notes and candy throughout Velious.
Hearts Across Faydwer
Collect love notes and candy throughout Faydwer.
Cherished Confections
Simmer up some sinfully sweet sidedishes.
Lovely Lacquer
Craft a full set of Erollisi Day furniture.
On Wings of Love
Score over 110 in the Hearts a'Flutter event.
Rose-Tinted Obsession
Craft ten Erollisi Day decorations featuring roses.
A Rose by Any Other Name…
Hand out 25 roses to fellow adventurers.
Make That a Bouquet
Hand out 100 roses to fellow adventurers.
No Love Lost Here
Hand out 250 roses to fellow adventurers.
A Sea of Roses
Hand out 500 roses to fellow adventurers.
Romeo's Got Nothin' On Me
Hand out 1000 roses to fellow adventurers.
Enamored of Erollisi
Complete these quests:

Bouquet of Trust, Harts Full of Trust, Sacrificial Trust
Unforgettable
Shot Through the Heart, What's Love Got to Do With It?
Hearts a'Flutter
Tainted Love or Heal the Pain
Find 'em a Find, Catch 'em a Catch
Love Lines
Return to Top
---
Quests
Return to Top
---
New Quest Walkthroughs
QUEST: You Don't Bring Me Flowers
REWARDS: Erollisi coin x5, Tickled Pink Baby Dragon Clothwork (house pet)
TO START: Speak to Amber G'Ris at /way -372, -62, 252 inside a building within Hate's Envy in Darklight Wood (Amber should be safe to reach at all levels, regardless of alignment. There are no guards nearby.)
Amber G'Ris, a perfumer in Hate's Envy, has run out of the essential oil she needs to produce her highly sought after scents. She has promised to reward me for obtaining the oil of the dieanthus flower for her, from Timorous Deep.
Obtain 12 essential dieanthus oils, found on the middle island of Timorous Deep, north of the travel globe. They are trackable flower npcs that turn into level-scaled mobs when you approach. Kill them for the updates.
Return to Amber to complete the quest
Return to Top
---
Returning Quest Walkthroughs
NOTE: Most, but not all, quest guides are included below. Leave a comment if there's other quests that would benefit from being listed as well!
QUEST: Cuts Like a Knife
REWARDS: Erollisi coin x5, Lover's Purse (house item)
TO START: Speak to Trelawny at /way -757, 102, 408 in Butcherblock Mountains, near the Lesser Faydark zoneline
Kill 12 animated obsidians (scales to level) around /way -60, 181, 314
Return to Trelawny to complete the quest
QUEST: Vision of Love
REWARDS: Erollisi coin x5, a Gazing Lover (house item)
TO START: Speak to Illixxol at /way -342, 400, 860 in Stonebrunt Mountains
To find Illixxol, take the wizard spire to Stonebrunt and go east out of Quel'ule. Turn right at the end of the broken pathway, then head up the green.
Speak with Rhema Sa'Din at /way -435, 380, 674
Head to Moonfield Hamlet and kill 12 slobberjaw pups (scales to level) around /way 48, 375, 1167

Lower level chars can speak to the Temporal Guide at /way -523, 378, 578 for safe passage to Moonfield

Return to Illixxol to complete the quest
QUEST: Find 'em a Find, Catch 'em a Catch! (good) (evil)
REWARDS: Erollisi coin x6; choose between several items (see below)
TO START (good): Speak to David Torchsong at /way 135, -22, -28 in Antonica outside North Qeynos
TO START (evil): Speak to Diana Heartstrings at /way -1099, -59, 51 in The Commonlands outside Freeport
If this is your first time participating in Erollisi Day, you must begin with this quest.
Speak to several people within West Freeport or North Qeynos (see below)
Return to Diana or David with these answers:

Zak and Lysndra
Tyluna and Colt
Amund and Vixxi
Marjorie and Beldrin

Or use these alternate answers:

Lynsdra and Tyluna
Colt and Zak
Amund and Vixxi
Marjorie and Beldrin
Upon completion you are directed to head to New Halas in the Frostfang Sea.
| NPC | Freeport | Qeynos |
| --- | --- | --- |
| Amund | /way 155, 1, 123 | /way 287, -19, 12 |
| Beldrin | /way 28, -18, 83 | /way 278, -19, -73 |
| Colt | /way 133, -4, -82 | /way 431, -20, -332 |
| Lysandra | /way 45, -12, 93 | /way 411, -21, -192 |
| Marjorie | /way 201, -3, 70 | /way 284, -16, 32 |
| Tyluna | /way 195, -2, -119 | /way 393, -18, -236 |
| Vixxie | /way -101, -21, -84 | /way 356, -21, 149 |
| Zak | /way 296, -4, 16 | /way 424, -26, -56 |
REWARD CHOICES:
QUEST: Unforgettable
REWARDS: Erollisi coin x2
REQUIRES: Find 'em a Find, Catch 'em a Catch!, Bouquet of Trust, Harts Full of Trust, Sacrificial Trust
TO START: Speak to to Priest Aaronolis Swornlove at /way 23, 148, -53 next to the Cairn of the Huntress in New Halas
Talk to Cerydes at /way -119, 147, -40 in New Halas
Speak to Priestess Annalisa Swornlove at /way 8, 149, -63 in New Halas. This step will only update once you complete these quests:

Complete Shot Through the Heart
Complete What's Love Got to Do With It? (see below)

Return to Cerydes
Return to Aaronolis to complete the quest
QUEST: What's Love Got to Do With It?
REWARDS: Erollisi coin x4, Flowering Pink Circlet, Intricate Tapestry
EXTRA REWARD: The Enemy Within (obtained during quest)
REQUIRES: Unforgettable, Shot Through the Heart
TO START: Speak to Priestess Annalisa Swornlove at /way 8, 149, -63 in New Halas
Enter Nektropos Castle: Love's Errand in Nektulos Forest (instanced zone option from the normal entrance)
Head into the stable in the northeast part of the entrance room. A falling block trap will strike you in here for 45% of your health and shrink you temporarily.
After the stable, head south toward the jail room. The jailers inside are optional to kill.
Continue south from the jail until you reach the chapel door
Click on the scroll inside the chapel at /way -20, -1, 54 behind Ullkorruuk's statue
In front of the statue, dust off the stone, then read it aloud (click it twice to do this)
Speak to the NPC, Kirstiana X'aphon, that spawns
Leave the chapel and head south again. Click on the hidden door on the southern face of the wall at /way -20, 0, 67.
Go up the stairs and exit the doorway at /way -44, 14, 73
Head west toward the dining room; there are poltergeist mobs that will spawn if you enter it, but they are optional to kill
Exit or bypass the dining room; continue west then north down the hall
There are two bedrooms on the eastern side of the hall; each bedroom hallway has a trap you can attempt to disarm before entering them
Kill the restless liches in both bedrooms
Return to and enter the library at /way -27, 13, 65; you will occasionally be attacked while in here
Click on the blue book in the northwestern quadrant of the library, sitting on the center book shelves at /way -19, 14, 47
Return to Annalissa in New Halas to complete the quest and update Unforgettable
QUEST: Love Potion Number One
REWARDS: Erollisi Mistletoe
TO START: Given by a volunteer guide on live servers. On Test speak to Brosha the Brokenhearted at /way 51, -43, -837 in The Commonlands.
In Antonica, go to the shore north of the Ruins of Caltorsis and pick a flower of true love's hope
Go to The Graveyard (accessed from The Commonlands or a Freeport world bell) and pick a rose at /way -25, -9, 63
Kill any type of fairy for magical fairy dust (EL or DLW are good places for this)
In Darklight Wood, speak to the fortune teller at Wanderlust Fair to brew the potion
In Enchanted Lands, enter the pub on the docks and slip the potion into Luc's drink
COLLECTION: Romantic Flower Petals
REWARDS: Passion Veiled Screen
Collection Item
Found in…
Cobalt Chrysanthemum Petal
Crimson Rose Petal
Onyx Rose Petal
East Freeport
North Qeynos
Qeynos Harbor
Emerald Chrysanthemum Petal
Golden Rose Petal
Velious Chrysanthemum Petal
Enchanted Lands
New Halas
Ivory Rose Petal
Royal Rose Petal
Sunset Chrysanthemum Petal
Antonica
Commonlands
Return to Top
---
History and Trivia
Erollisi Day has underwent many evolutions over its long history.
2005: Priest Aaronolis Swornlove offered the quest Love of Ages Past, which rewarded Erollisi's Charm, an item that converted into a mounted house item version. This quest was later discontinued.
2006: Goldie Hammerfall and Stinky Sideswiper offered the original Hearts a'Flutter contests.
2009: Prelude to the opening of Shard of Love: A Moment of Valor. During Erollisi Day players could participate in the one-time quests, Seeking Love's Fate through Valor or Seeking Love's Fate in the City of Hate. In a GU53 world event the Shard of Love was opened up by completing Through the Gates of Bliss for Love or Through the Gates of Bliss for Hate. This also began furthering Erollisi Marr's story.
2009/2010: Landax Z'Torzin offered evil aligned players the quest Bouquet of Thorny Trust, which introduced citizens of Freeport, Neriak, and Gorowyn to the Swornlove siblings. The quest was discontinued in 2011 after New Halas was added to the game.
2011: During the one-time quest Total Eclipse of the Heart, players discovered that Selena (aka Ullkorruuk) never passed into the Ethernere.
2012: A prelude event to Erollisi Day, "A Goddess Risen", introduced the quests Unbreak My Heart, Captive Heart, and Thief of Hearts. We learned that both Erollisi Marr and Ulkorruuk's essences were trapped inside the Cairn of the Huntress, and returned them to Norrath at the end of the series. (Erollisi did not become worshippable until 2015; Ulkorruuk is still not worshippable.)
2012: The Hearts a'Flutter contest got a modern revamp to its current version.
Did You Know? Many Erollisi-related quest names are titles (or lyrics) of songs!

* Selena is also Ulkoruuk's real name!
** Bon Jovi [2004], Tina Turner [1996], and Madonna [1992] also have songs titled Thief of Hearts. All four variations (including Manchester's [1984]) have different lyrics.
*** Tainted Love was revamped with a different arrangement in 1981 by Soft Cell, a version that Marilyn Manson later covered in 2001

YouTube playlists: Erollisi Day – Full (all variations) and Erollisi Day – Lite (single variation).
Trackback from your site.