Daybreak Games Tricks and Treats 2015 — Game Card Giveaway!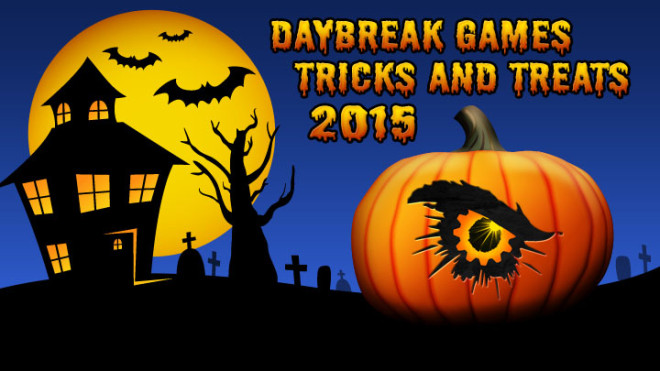 From the EQ2 Forums:
Ghosts and goblins, pumpkins and poltergeists, bats and broomsticks… it's Halloween time here at Daybreak! We've got special themed in-game activities, new Marketplace treats, and a chance to win some Daybreak Cash – no tricks!

Daybreak Halloween Promotion: $25 Daybreak Cash Card Giveaway!

New Daybreak game cards will be hitting the shelves of U.S. retailers this month, and we want to give some away! We'll randomly select ten (10) winners to each receive a $25 Daybreak Cash Card.

Here's what you need to do:
Take a Halloween-themed screenshot or create a Halloween-themed video of your character in any Daybreak game enjoying this year's events/items/in-game NPCs and decorations.
Submit your entry. You have two options for submitting:

Upload to the official Daybreak Halloween Promotion site here.
Follow @DaybreakGames on Twitter and tweet your entries using the hashtag#DaybreakHalloweenPromo. You MUST be following @DaybreakGames, and include the channel AND the hashtag for your entry to be valid.

Already have the perfect submission? You can submit starting NOW!
Not quite in the Halloween spirit yet? That's okay – you have until Monday, November 2 at 12:00PM PST* to get your submissions in!
For full rules and restrictions, visit this site.
Please note: Daybreak Cash is usable in any Daybreak Games PC Title. Daybreak Cash cannot be used on the PS3 or PS4.
Also a bit about Nights of the Dead…
In EverQuest II, the [Nights of the Dead] event will return to Norrath on October 8th. The annual event will feature new illusions, rewards, and a new recipe book for tradeskillers. There are also returning favorite quests and earnable achievements from previous years. [The] Marketplace is [also] getting ready for Nights of the Dead! New items are available beginning October 1.
Trackback from your site.