Upcoming Server Consolidations – Vote on YOUR New Server Name!
We have more details now about the upcoming Server Consolidation for EQ2 live servers, specifically which servers are merging where. To avoid confusion or "TL;DR", we've prepared this handy guide to exactly what the server landscape will look like after this change: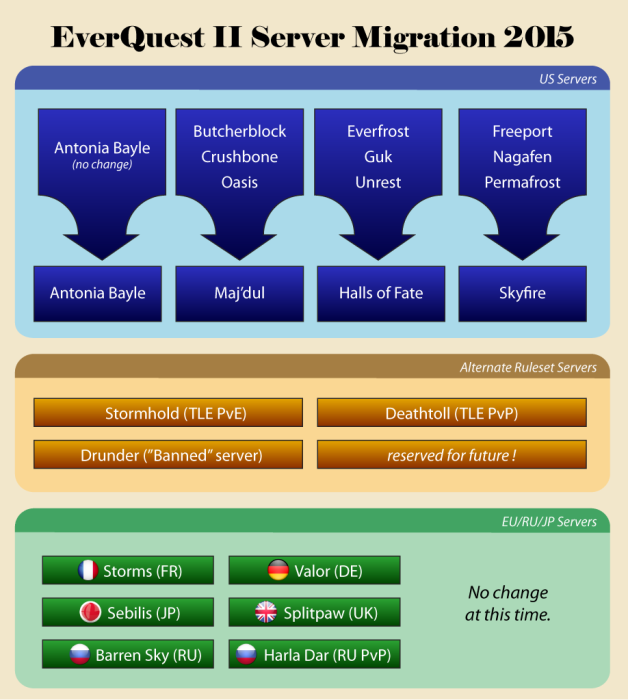 (updated on October 6th with the new server names)
There's no word on how character names will be reserved, as that is probably still being hammered out, but the most notable news today will likely be that Nagafen is merging into Freeport and Permafrost. This is not really surprising given how few players were logged in even at peak hours (maybe 30-40?). Deathtoll has shown that PvP can be very popular in EQ2, if the ruleset is right and there are limits on travel convenience.
Here's the announcement from Holly "Windstalker" Longdale on the EQ2 Forums:
Good day, Norrath!

First, we want to thank you all for playing! We have got the best players around. The team has taken the opportunity to spend more time on our servers lately and it's been a healthy reminder about why we do what we do as devs. And it has helped us with our plans as well.

We kicked off the early planning phase for the server consolidation of some servers so we can get the populations healthier and feeling more lively. We have identified the servers we will consolidate into new ones. Through the links below, we invite the players from those servers to start suggesting area or NPC names for their new server based on a theme which we will put to a vote for those servers.

Butcherblock, Crushbone, Oasis -> Desert of Flames Theme

Everfrost, Guk, Unrest -> Kingdom of Sky Theme

Freeport, Nagafen, Permafrost -> Rise of Kunark Theme

As you'll notice, Nagafen, our last PvP server, will have its players moved to a new PvE server. We love our Nagafen players, but the population isn't big enough to support development effort to sustain a PvP server as well as we should. We are sad about that, but at the same time we are happy that the new Deathtoll PvP server is doing well.

The engineering work for consolidation is still being worked on and we will go into testing in the coming weeks. Part of our diligence is around ensuring all your houses, dungeons, guilds, and all your "stuff" goes with you. We will also add titles for players from each server so you can identify your original server if you'd like to!

We are excited to see how these new communities grow and develop and we'll have more details and news as we get closer. We will post votes on each server related to the suggestions you put forward for the server names in the coming weeks before the moves occur.

As we do that work, you may have seen our prelude events for the content coming in the months ahead. We are also thrilled that Domino – known as Emily Taylor – is back on the team to dig into the housing and crafting side of our game. Those who know her will remember she has very unique talents in that area of design!

As always, there will be more news to come!

Be well, Norrath, and thanks to all of you,

Holly "Windstalker" Longdale
Executive Producer, EQ & EQ2
Trackback from your site.