The Shouts of Rowdy Patrons Calls Attention to Brewday 2015
NOTE: EU servers do not seem to have had the event turned on, possibly due to emergency maintenance on Valor and Splitpaw servers yesterday afternoon.
From the EQ2 Forums: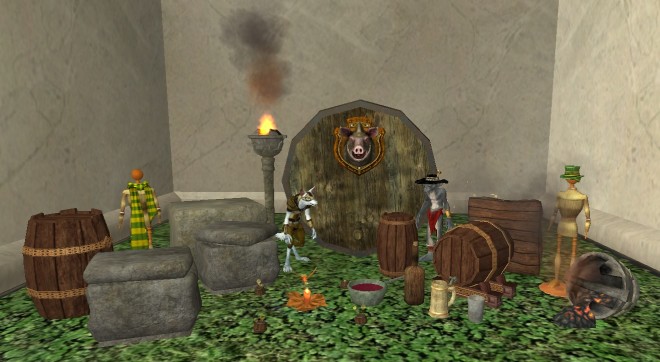 Celebrate Brewday with both new and familiar holiday themed rewards, crafts, and adventures. Brewday 2015 starts on Thursday, March 5 at 12:01AM Pacific and runs until Monday, March 16, 2015 at 11:59PM Pacific.

New Features for Brewday 2015!

Seven New Merchant Items sold by Balin Copperfoot in Bar of Brell
Don't miss any of the new items available this year! Collect Beer Tokens and exchange them for any of the following items:

[eq2u]Runnyeye Shinykeeper Plushie[/eq2u]
[eq2u]Snowfang Thief Plushie[/eq2u]
[eq2u]A Strange Cabbage[/eq2u]
[eq2u]Briarwood Keg Door[/eq2u]
[eq2u]Boar's Head Wall Trophy[/eq2u]
[eq2u]Boozy Glow Skimmer[/eq2u]
[eq2u]Bouncy Grungetalon Chest[/eq2u]

New Quest – Bog Mountain's Eruption

Maisy Sweetbeat in Enchanted Lands is looking for YOUR help! This quest can be repeated daily.

New Tradeskill recipe book, "[eq2u]Brewday Accoutrements to Craft VI[/eq2u]" sold by Balin Copperfoot in the Bar of Brell.

These recipes require holiday harvestables gathered from "Bountiful Brewday gardens" and other low level harvestables.

Also, look for the Brewday content returning from previous years!

Looking to learn more about Brewday? Check out some of our great fansites that have information of your about this event!

Don't hesitate to make this Brewday Festival a memorable one, and we'll see you in Norrath!
Trackback from your site.