Vote in the Prestige Home Player Poll (Ends February 16th)
If you've checked your in-game mail in EQ2 lately, you've hopefully received the Prestige Home Poll for Winter 2015. Players have been asked for vote for which Prestige Home they'd like to see added to the Marketplace next.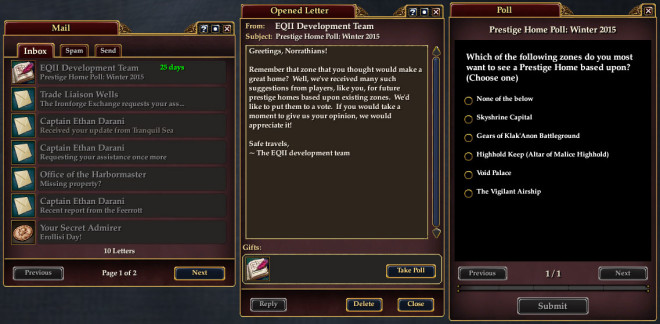 From the EQ2 Forums:
Greetings Everyone,

We've received a lot of requests from players to create prestige homes based upon some existing Norrathian zones. We'd love to create another prestige home, so we've implemented a Prestige Home Poll in-game so we can have your opinion on what style home you'd like to see added!
Poll questions will arrive in your in-game mailbox like normal letters, and you can simply delete them if you don't want to answer; however, we hope you'll take the time to let us know what space you'd enjoy the most. These are some of the themes we are considering using for an upcoming Prestige Home:

Skyshrine Capital

The noble Claws of Veeshan dragons have long called Skyshrine their home, and now you could call it your home as well. Think about everything you could you do with a marvelous space that is themed after this prestigious dragon city!

Gears of Klak'Anon Battleground

Do you want to create a striking space that is suitable for battle? Or maybe you have a passion for all things tinkered? Well, this prestige home based on the Gears of Klak'Anon would definitely be for you!

Highhold Keep

Have you ever wanted your own personal fortress? This prestige home would be based on the magnificent Altar of Malice Highhold Keep. Why make a house your home, when you could make a castle your home?!

Void Palace

Would you prefer a space that has a truly unique style? Well, a void-themed prestige home definitely fits that description! This prestige home choice gives you a chance to live on the edge in your very own dimensional pocket. Take a look!

The Vigilant Airship

The Sentinel was an airship originally built by the Erudin Erudites and used to haul large amounts of cargo overland. When the Void intruded into Odus, it was abandoned. The Paineel Erudites claimed the airship and re-worked it for their own purposes. It then became known as The Vigilant, as it watched over and protected the city. This is your chance to own a home themed after the majestic Vigilant airship!

Want to tell us what you think? This poll ends at midnight on February 16th, so make sure you log into game to vote for your favorite place before it's too late!
Trackback from your site.