Inside the Players Studio #23 — PS Preview Tool Coming Next Tuesday to EQ2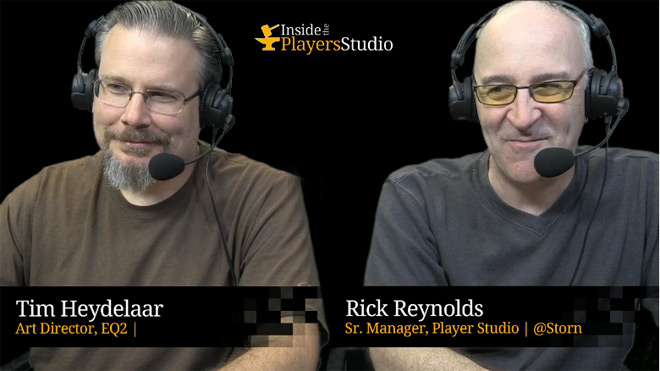 If you are a Player Studio creator for EverQuest II or have an interest in developing weapons, cloaks, or house items for EQ2, then you'll be thrilled at the news that, next Tuesday, a free tool is being added to the EQ2 client to allow designers to get a better idea of how their creations will appear in-game.
When 3D artists create these items in Blendr, Lightwave, 3D Studio Max, Maya, Zbrush, etc. the resulting geometry looks very different to how it looks in-game. This is due to the lighting and shaders which are unique to EQ2. The new Player Studio viewer app will, of course, not eliminate the need for 3D modeling software, but it will make it possible to see a close approximation of how items will look in-game, even at different times of day (affecting lighting and shadows).
The new viewer is also going to open up 2 oft-requested new shader styles — Glow for self-illuminated items, and Alpha for transparent items. The Player Studio app will load FPX 3d files which are a common file format among most 3D modeling programs. PlanetSide 2 got this tool yesterday, and EverQuest will get their preview software in the first week of December. EverQuest II will get their Player Studio viewer app next Tuesday, November 25th.
Last night, EQ2 Art Director Tim "Haohmaru" Heydelaar joined Player Studio Senior Manager Rick "Storn" Reynolds for an episode of Inside the Players Studio to talk about this new tool, which you can watch here:
Trackback from your site.