Backlash II: The Sequel — You Really Can't Please Everyone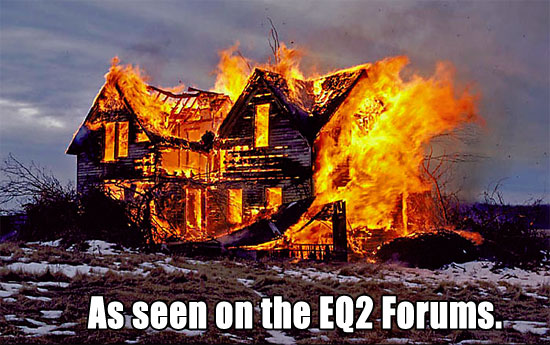 Last Friday, SOE announced changes to their Subscription services, replacing the 500 SC/month allowance for having a Gold Subscription in any of SOE's games with a monthly voucher to buy ONE item per game, up to 2,000SC, to exclude Player Studio, "bundles", and an unknown array of other items, presumably "Services", Experience items (280AA bauble), and expansion unlocks like Mercenaries. Players who buy a number of 100-200SC items would have lost out with the deal, as the voucher only applied to a single item with exclusions. And while it's a small pool of players, Vanguard players on an All Access subscription would have gotten nothing out of the deal.
Yesterday, SOE President John Smedley halted these changes, bringing back the 500SC/month allowance (although it must now be claimed once per month), and went further, cutting the price of a multi-game All Access subscription from $19 to $15 and applying a 10% reduction in all Marketplace prices for Subscribers. And all was right with the world.
Except…It seems there were some players who were excited about the "one item per month up to 2,000SC" deal, but didn't say so. I'll let the quotes speak for themselves…
from Kaeros:
Wow, that's incredible. A bunch of people just b & m'd the entire community out of 4 times the rewards. Way to go forums.

Personally all the people I play with were pretty hyped about the new version once they said they were looking at bundles and player studio items being back on the table for it.

Stick to your guns Sony!

from DrunkenShaman:
Wow, you try to hand people a great deal and they spit in your face.

A free item worth up to 2000sc in every game every month and you people whine until you lose that and get your 500sc back? I would rather have the potential of 20 to 40 dollars(or more) worth of merchandise then $5 that i can do with what i please when i please. Ya your giving up a little freedom, but IMO it was well worth it.

I can see if you only play EQ2 or PS2 then you don't really care, and it looks the majority of SoE players are one game only peeps. That's a shame, I for one will be playing EQ2, PS2 and DCUO for sure with this change.

Too bad the community just ruined a great potential deal for those of us that do play all the games. EQNL and EQN can't come soon enough!
from Kellden Darkleaf:
Seriously??? I am a lurker on these forums and it is because those "vocal" folks would eat those of us, who were actually pleased with the proposed change, for lunch. Reading through ALL of the posts on all 3 threads during the last two days, I sat here scratching my head at this group that will not be happy with any changes and their affinity to complain for the sake of complaining. I am not insinuating that you are one of these folks as I do not know you but go back and re-read what was being posted and think if you were on the side that actually liked the changed—would you have waded into that mess?
from Treysar:
I personally like the original option better its more value for my buck and screw the nut jobs that cant see it. so i want all you who voted for this 500 option and screwed me into having to wait 4 months per item to buy me 1500sc per month to cover the items I cant get now =p
from Warriorpoetx:
Bah, the Voucher was so much better … I am not one who uses the store to enable easier play in the game. So a once a month big purchase would have been so much better. Sitting on 500sc each month for say 4 months to get a 2000sc item is just ungodly long. Thanks to you big-mouthed forum folks who just basically sobbed away a far better deal for the majority of us.

Should have done in-game polls … forums are often far more crowded with angst-riddled types that do not represent the majority
At this point, the thread decended into a tit-for-tat between players as they split into two camps — those who want 500SC/month, and those who want the "2000SC voucher" — each representing themselves as speaking for the majority of players. Rather than post my own summary, I will leave that to players with more patience than me:
from Jojo:
It's interesting how all the members who (no doubt silently) approved the previous plan regarding the station cash are now coming out of the woodwork to complain now SOE have changed their mind about that proposal. lol

To those who had approved the proposed change, you had a chance to voice your opinion in the original thread, which you didn't. 90% of the posts were from people who were against the "use it or lose it" one-item voucher idea, and Sony took note – which to their credit is commendable of them (and probably sensible! lol).
from Pipsissiwa:
A whole weekend and a 50+ page thread asking for feedback and NOW those who preferred the original deal pipe up. Feedback doesn't mean only negative reactions – maybe this is a lesson in taking 5 minutes to support new ideas you like just as many others took 5 minutes to oppose them. OK, so not everyone was able to, but that goes for those on both sides of the debate, and overwhelming numbers opposed this one. Never assume that because you are happy everyone else will be – its just like real world politics in that respect.

I personally much prefer the flexibility of 500sc to spend as I see fit, on many small items or things like insta- rezz, or save for larger. The 2k would have better only if it was actually 2k, not one item only, otherwise its only "4x the reward" IF you buy a high priced item every month. And there are a limited number of those once the hinted at exclusions applied. Also remember, if you didn't spend it it didn't stay on you account, it vanished, unlike the 500SC, so if there was nothing you wanted, you would have to choose something you don't want or lose the 2k that month. This way you will get the SC and can buy when you see fit, no pressure selling.

Still reserving final judgement until I hear what the plan is for Europeans, especially those of us playing EQ2 on grandfathered SOE accounts. Hoping SOE don't open another can of worms there…
File this under "We should really consider all the permutations and consequences of a change before announcing it to the playerbase, and if possible, get their feedback FIRST before ramming through an announcement on a Friday." That said, we have to give kudos to SOE for listening to at least half (?) the players and making such a quick turnabout!
Trackback from your site.