PlayerStudio: "Dawn of the Dark Elf" Item Creation Competition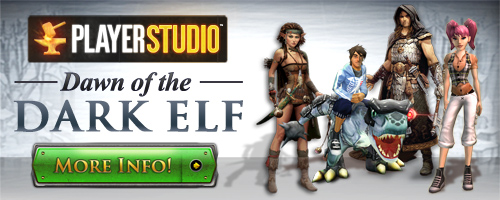 "Dawn of the Dark Elf"
The First Player Studio Item Creation Competition

From June 15 to July 15, 2013, Dark Elf-themed items submitted to Player Studio will be eligible to enter our first Player Studio art competition.

For EverQuest II, categories could include cloaks, weapons, shields, furniture & house items, hair styles, and even headgear (submitted as hair.) Our Art Director judges will be looking for excellence of technical execution, artistic quality, adherence to the Dark Elf theme, and crowd-pleasing originality. There is no limit on number of entries.

All entries must be received by 11:59pm PDT on Monday, July 15, 2013. In the case of multiple submissions of the same item, the most recent before the deadline will be the only submission considered in the judging. Resubmissions after July 15 at the request of SOE will not disqualify your entry.

Winner will be announced on Monday, July 29, 2013.

Judges: Joe Shoopack, Dave Brown, Kevin Lydy, and Tim Heydelaar.
Read More about this Competition, including full Official Rules
Trackback from your site.