EQ2U Gear Report Version 1.1, Collapsible Groups, Epic Repercussions
EQ2U Gear Report V1.1
I'm happy to report that the next version of the EQ2U Gear Report has just been pushed live and we have some new features that hopefully folks will appreciate!

First up is Crit Bonus and Potency have had an amicable breakup and are now just going to be friends in their own separate columns. This should help melee-focused Priests and Mages going forward. Previously, only one of these stats was shown, biased towards certain Archetypes.
Second, we've got a new Tooltip when you mouseover the White, Yellow, Red, and Green adornment summaries which shows you exactly which equipment slots are missing adornments. This feature required a new Javascript file, so you may need to hold down Ctrl and press the F5 key a couple of times to get it to load the new file.

Third, it's been suggested that we show, at-a-glance, which equipment has yellow or red slots. This can be helpful to distinguish between two 183 stat items, one of which might be an old HM drop vs. a brand new heroic item. I hope to add a simple checkbox on the page to hide/show these dots as they can be a bit distracting if you are wanting to look at just the numbers.
Collapsible Groups
If you haven't logged into EQ2U lately (you do have an account, right?), I've added a Collapsible Character Groups feature to the homepage. This allows you to roll up character groups which may have characters you only refer to occasionally, or an alt vs. main raid force. And the best part is, hidden groups will stay that way until you show them again.
Just look for the Character Group Collapse button in the title bar of each group. ( 
)
EQ2 Marketplace
On June 5th, we launched the EverQuest II Marketplace browser for EQ2U, which allows you to browse the entire marketplace of over 1,900 items and view screenshots of many of those items. I know Marketplace is not everyone's cup of tea, but there are some really astonishing armor appearances and mounts, as well as the Player Studio player-made items which I am very excited about. This feature also got a lot of positive attention from SOE which hopefully ensures the continuation of Census and more data for EQ2.
Today, we've added a link in the black navbar at the top of every EQ2U page that will take you to the Marketplace.
Epic Repercussions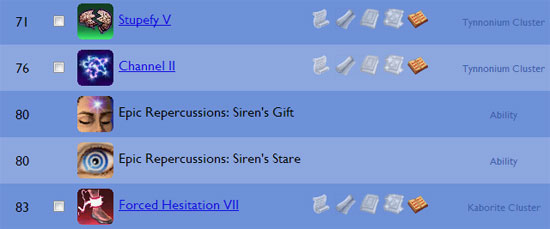 We've found a way to show if you have completed the Epic Repercussions quest on each of your characters. This information appears on your Character Spells page as one or more level 80 spells.
Making Room for More
To make room for more links, our favorite links from EQ2U now appear in a Popup. This in addition to the Character Popup. Just click the triangles:

EQ2U Gear Report V1.2?
I probably know better than to post my own "Wishlist", but here's what I'd like to do for the next versions of Gear Report. I'm not making any promises of if/when these can be done:
The ability to easily Remove a character from a Gear Report list.
Turn on/off Adornment Slot Dots on Gear Report.
Set a default Baseline value which EQ2U remembers and will use if you don't specify one on the form.
Add a Blue adornments column if even one selected character has equipment with blue slots.
Gear Report Question
Also I'm just curious:
How many people, given the option, would use their Main Stat (Intelligence, Wisdom, Strength, or Agility) rather than Stamina as your baseline stat in Gear Report?
As you can imagine this would require some pretty substantial code changes so I'd like to gauge interest before investing hours into this.
Trackback from your site.