Editorial: Three Years of Progression Comes to an End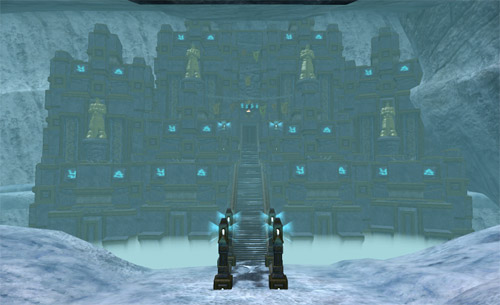 A funny thing happened when I was chatting with some folks about today's news of Critical Mitigation being completely removed from EQ2. A few of them were surprised when I reminded them that Crit Mit has been part of EQ2 for over 3 years.
Critical Mitigation was introduced in November 2008 with The Shadow Odyssey expansion. At first, it played no part in solo quests or group zones, thus many people weren't even aware of it at the time. But anyone who was into raiding x4 (24 person) zones, and later, Ward of Elements x2 raids, has been collecting this stat for a while.
Critical Mitigation is the reduction or mitigation of the enemy's ability to do "Critical" damage to you. If an enemy has 30% Crit Bonus, then you need 30% Critical Mitigation to reduce its damage to the "normal" amount.
The Shadow Odyssey was fairly gradual with the amount of Crit Mit required. At the time, exceptional healers could keep an undergeared character alive long enough to get necessary gear upgrades.
Sentinel's Fate cranked things up a bit, requiring at least 1-2 Crit Mit adornments to do the harder content and making it a bit harder for healers to "cover" for a player who a few points short.
But Destiny of Velious went completely bananas, initially requiring Crit Mit to do all raid, group AND solo content. Many of us fondly remember getting one-shotted by badgers and sea urchins during the Velious Beta.
Everywhere Crit Mit

At the launch of Velious, each group zone had a progression of gear, and that progression HAD to be followed to get enough Crit Mit to even consider moving into the next set of group zones. And unlike the somewhat forgiving Crit Mit mechanic of past expansions, Velious made Crit Mit a "do or die" stat. Being a few points short became a death sentence.
Although the requirement of Crit Mit was eventually dropped for solo content, and more recently for all group content except Drunder, the requirements for raiding have remained incredibly steep.
As a result, Velious has attracted parallels to the merciless "back-flagging" that made the original EverQuest's Planes of Power expansion so maddening. Every new applicant to a raiding guild has needed remedial trips to raid zones and targets which the guild has moved on from (typically EM or non-Challenge zones), just to get the right gear pieces to have enough Critical Mitigation to even dream of resuming work on their usual targets.
Ironically, it was into this climate of challenging progression that EQ2's well-intentioned Dungeon Finder service blundered into and promptly collapsed. A system that randomizes player styles and skill levels into a random selection of zones only works if the content is interchangeable. Dungeon Finder would have been a fantastic introduction in Kunark or The Shadow Odyssey, but with Velious tiered content, it never had a chance.
If I recall correctly, Critical Mitigation was introduced as a way to mitigate the need for bi-annual level cap raises which tend to be a tremendous drain on development resources for content which, quite frankly, most people burn through in a week or two.
Ending the Crit Mit Rat Race
Before today's news, I had been advocating a 20-30% across-the-board reduction in Critical Mitigation requirements. This would be a big enough change that raiders wouldn't need to walk down memory lane quite so often, and players would have the option of equipping adornments other than Crit Mit.
You may recall that the mechanics changes in Velious (stripping cool effects/procs off most items and moving them to Adornments) were sold to players with the lofty idea that it would usher in an era of freedom of choice.
Yet acquiring new gear has been the definition of mixed emotions, as a a steady stream of Primal Velium Shards has been needed to re-purchase Crit Mit adornments for each new slightly upgraded piece of gear just to stay in the Crit Mit rat race.
The reality was, anyone serious about progressing through the harder group zones, into x2 raids, and finally into x4 raids had only one choice of adornment — Crit Mit. An EQ2 developer famously stated that any EQ2 player interested in progression should exclusively be using Critical Mitigation adornments.
A New Progression?
Love or hate Crit Mit, it has marked the progression of gear beyond level 90 for two going on three expansions. Short of raising the level cap, which seems unlikely based on past development comments, what will be the next "progression" stat?
The ugly truth is, every MMO is a treadmill. The art of MMO design is concealing that reality and doing so tastefully.
Tags: critical mitigation
Trackback from your site.