Inside SOE Broadcast on Ustream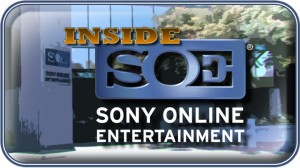 Inside SOE Broadcast on Ustream
From EQ2Players:
Join us on Wednesday, May 26, 2010, at 1:30 pm PDT, as we take a look behind the scenes in this edition of the Inside SOE Broadcast on Ustream! We'll be in the SOE Ustream channel! The event is expected to last about 30 minutes.

1:30pm PDT | 2:30pm MDT | 3:30pm CDT | 4:30pm EDT |9:30pm GMT | 10:30pm CET

Activities include:

Live Chat and Q&A! – Attendees can chat live and ask questions with members of the Community and Development teams.
The Agency: Covert Ops and Pox Nora – Join us as we chat with our Tuscon office about these Facebook games.
EverQuest II – Tune in to chat with the EQII team about the release of Halas Reborn!
Free Realms – Find out more about the newly released Free Realms goodies!

To watch our live webcasts, you can visit the channel or you can create an account and log in to Ustream to chat via text with the Community Team and our special visitors.

See you on Ustream!
NOTE: The event is now 15 minutes late.
Tags: ustream
Trackback from your site.