Terrors of Thalumbra Beta Stream: Mon, Oct 26 @ 2PM PDT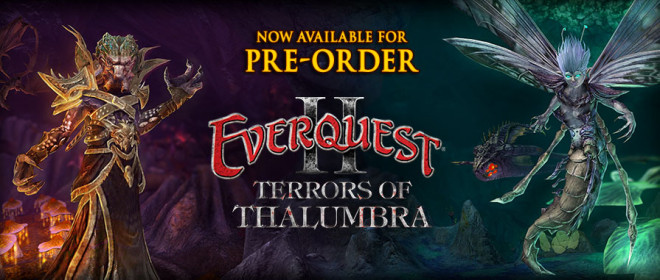 From the EQ2 Forums:
The EQ2 team will be hanging out in Thalumbra during an expansion beta livestream starting at 2PM PDT* on Monday, October 26, 2015 on twitch.tv/everquest2

During this stream, the EQ2 team will share highlights from the Terrors of Thalumbra beta, chatting about the beta reward, and showing off some things you haven't seen yet!

Want to check out the Terrors of Thalumbra beta NOW? Pre-ordering gives you immediate access to the beta servers and Altar of the Ancients, a special housing item that grants daily XP gain. If you haven't already pre-ordered Terrors of Thalumbra, you can do so here.

We look forward to hanging out with you on Monday, October 26!
NOTE: I am out of town this week and will not be able to provide a transcript of this panel.
Trackback from your site.