Celebrate Ten Years of EverQuest II at the Heroes' Festival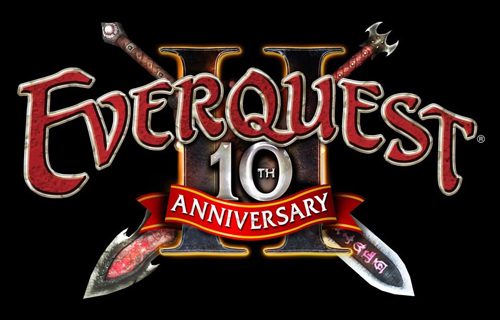 Tomorrow marks the 10th anniversary of the release of EverQuest II. To celebrate this, the annual Heroes' Festival returns with some new events, specifically five open raid encounters which anyone can participate in and earn credit (like a Public Quest, you do not need to be grouped or even the right level to get credit).
UPDATE:  The Heroes Festival did not appear on Test or Beta, and so players are reporting a number of issues, specifically that the camps have despawned and vendors are unavailable.
UPDATE #2: According to a dev update, the mobs have been respawned, but there is no assurance that the quest will keep running all weekend.
View the "The Play's The Thing" Heroes Quest writeup at EQ2 ZAM!
Here's the original article from Afista on the EQ2 Forums:
This year's Heroes' Festival is extremely special because Norrathians will be celebrating ten wonderful years of questing, raiding, tradeskilling, house decorating, and socializing in EverQuest II!

Travel to the cities of Qeynos or Freeport for the joyous festivities. Be prepared to join the fun, because the Heroes' Festival starts on Friday, November 7 and runs through Monday, November 17, 2014.
New for 2014
A strange woman and her band of play-actors have been seen travelling around bringing to life the stories of Norrath's past. Track them down, and attempt to defeat iconic EverQuest II bosses… in patchwork form!

The patchwork bosses drop a new currency, Mischeva's Tribute, which can be used to purchase special items! Visit the Heroes' Festival merchant in Freeport and the Qeynos Capitol District for house versions of your favorite defeated patchwork bosses, including Darathar, the Djinn Master, Trakanon, Roehn Theer, and Baelon. The Mischeva's Tribute currency can also be used to purchase sets of level 10, 20, 50, 70, and 95 heroic armor and weapons!

Additional majestic items will also be available for Tokens of Heroism from the Heroes Festival merchants. How about sprucing up your garden with the Heroic Lance or Heroic Blade statues? The Clock of Ages might also make an interesting conversation piece for your next lawn party. If you don't care for housing décor, then maybe the Cloak of Remembrance or Cloak of Direction is more your style!

In addition to the new 10th Anniversary event, Heroes' Festival content from previous years is also returning to Norrath! For additional information on what's available during the Heroes' Festival, please visit some of our fabulous write ups found on EQ2 Zam and EQ2 Furniture.

Are you ready to celebrate the ten amazing years in Norrath? Log on and join us for this years' Heroes' Festival as we celebrate Norrath's past and look forward to many years to come!
With more details about how these open raid fights are constructed, Afista again:
All players are able to participate in this [Public Quest]-style battle! 

The patchwork bosses will spawn anywhere from 30 minutes to an hour-and-a-half in each of their specific zones and will notify anyone in the zone once they are up. The creatures also bestow a stacking buff to characters that are participating, which will increase their DPS over time. This should help lower level players more significantly than higher level players.

Each boss maintains their hate list throughout the fight, and anyone who gets onto that hate list will be granted the quest which auto-completes when the boss dies.
Trackback from your site.