On Test: Tears of Veeshan Heroic Exchange Merchant
One of the most intriguing things about the recent Tears of Veeshan expansion is, there are at least seven different "Stat Packages" for quested and dropped gear. Not only are these items intended to have their stats fiddled with through Reforging, but most restrictions on equipping items have been dropped, save for the armor's material (Cloth, Leather, Chain, Plate). This plethora of choice has been a blessing for most, but a curse for some with unlucky dice.
When an Advanced Solo or Heroic mission is completed, each player receives an Ornate Chest with an item having one of the following "stat packages":
DPS with AoE Spec, DPS with MA Spec, DPS with Haste Spec, Main Tank Spec, Off Tank Spec, Potency/Reuse (Caster), Potency/Ability Mod/Health (Melee Caster)
Depending on your luck with the magical dice, some players are positively swimming in gear that does not fit their stat and growth needs, especially tank/mitigation items for Clerics and Druids, caster items for Scouts, and, melee battle priest type gear for healers who prefer to go the spell route.
This has been a frequent topic of discussion on the EQ2 Forums, with a chorus of players asking for a Heroic Equipment Exchange Merchant. Great idea, but putting in one-for-one exchange merchant would completely short circuit the progression of the expansion and let players run just 7 zones to get a full set of Arcane or Potent gear.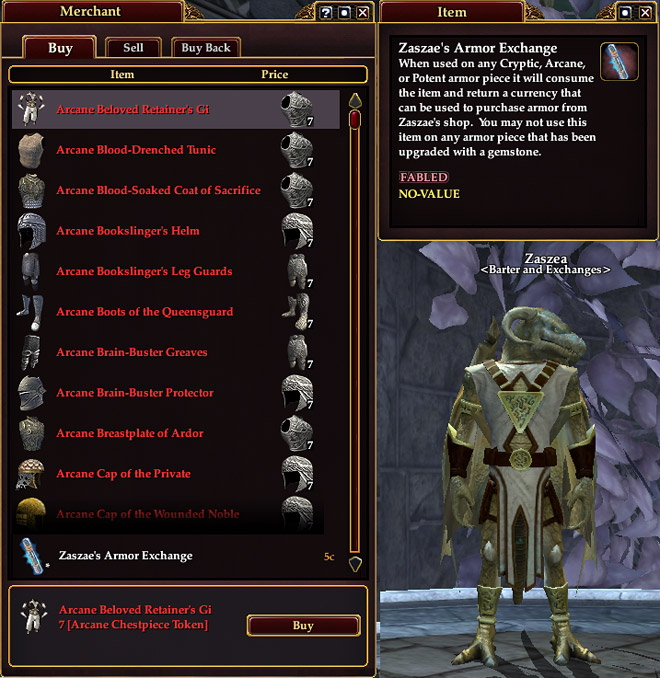 A New Vendor on Test
On Test, which is of course subject to change between now and when said feature goes live, is a new exchange merchant named Zaszea who sells a item to convert Cryptic, Arcane, and Potent items into tokens which can then be used to buy the exact Crytic, Arcane, or Potent item you want.
Note that you must convert 7 Arcane gloves to get an Arcane Glove Token. You cannot mix and match different tiers or different types of items. I absolutely like the idea of this merchant, but given this restrictions, the cost seems a tad high. Scouts can comfortably improve their characters with 3 of the stat packages, while pure casters only benefit from one, so needing to fail 7 times on the dice before receiving one item seems a bit much.
I suppose if someone really likes grinding zones they could, at an snail's pace, gear up an alt that wears a different armor type.
We'll be watching out for any announcements on this feature, as well as any tweaks or adjustments on Test!
Trackback from your site.