A Day in the Life of a Bug: The Skyshrine/Kael Drakkel XP Nerf That Wasn't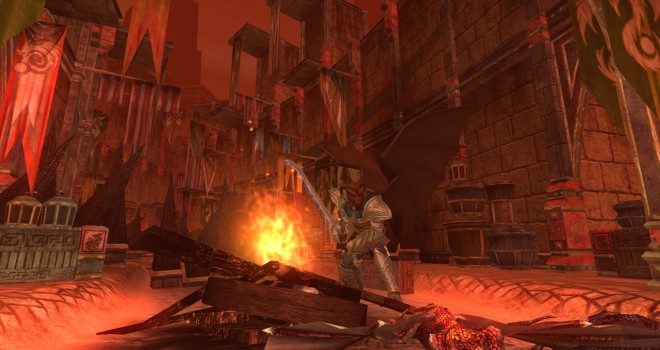 I'm a bit late on this as the bug has already been fixed, but I wanted to get this out there just the same.
Shortly before the introduction of Heroic characters, a few players noticed that Experience gained from the contested zones of Skyshrine and Kael Drakkel had dropped by as much as 90%. Conspiracy theories abounded that the EQ2 team was secretly reducing XP rates for these zones to prevent discourage grinding of Heroic characters to 95.
However I knew that this was not an intentional change. How? At past SOE Lives, I've informally asked for the EQ2 team's viewpoint on the different ways that players level in EQ2. This answer has changed over the years and, in my opinion, for the better. With our current lead designer (Kander) we just haven't seen the type of sweeping XP changes like we did in the past. If players wish to group, raid, or solo their way through 320 AAs and 95 levels, that's their prerogative. It's a refreshing viewpoint after all the XP reductions that happened to the once-popular The Hole.
RadarX stepped in to indicate that this was not an intentional change:
As a policy we generally don't comment on rumors but this one has been going for about a week now. There have been no changes made to Kael or Skyshrine experience. There is no way we could "sneak" such a change by you guys, because you'd notice, so there would be no benefit to not announcing it.
The fourth day is when we started to get some real traction. Caith checked out the data and reported:
A quick look through this doesn't show any changes, the zone experience modifiers haven't changed, and code tells me that how those functions are handled hasn't changed, but we'll do some more checking.
Lyndro then went into further detail that any XP "nerf" was unintentional and askedplayers to provide more details about where and when they saw the changes:
As Caith said, we didn't intentionally make any changes to the experience awarded in any zones (or creatures) with this update, but that doesn't mean that something isn't bugged. We can take a look, but it would be helpful to have more information to track this down.
He also reiterated some details about how Group XP splits work and possible explanations for what players might be seeing.
But it was Endymion with the good news:
We have an idea of what the issue is now and are investigating a fix. Thanks for the tests.
The next day (Friday), US servers saw the bug fixed!
Adjusted group experience gain.
It took a bit longer for EU servers to get the fix. Why? EU servers patch later than US servers so that patches don't take place during prime time playing hours.
RadarX put the issue to bed with this:
As the experience bug has been resolved, we are going to go ahead and close this. Feel free to drop me a PM if you have any additional concerns.
People talk about the "good old days" but often forget that it used to take many multipage threads, sometimes with hundreds of posts running for weeks to get a reply on a bug, let alone a bug fix. Now, it's not unusual to get a response the same day or a couple of days after an issue is raised. With a 11 year old code base (assuming EQ2 began development in 2002), it's inevitable that innocent changes in one part of the code will result in bizarre behavior somewhere else, so it's helpful to know that when issues do arise, it won't be weeks before they're addressed.
"The faucet only drips when the plumber isn't there."
Trackback from your site.