Posts Tagged 'game update 74'
From the EverQuest II YouTube:

The Kunark Ascending expansion is now live!
Welcome to Kunark Ascending from #EQ2! Servers are now unlocked!

— Holly Longdale (@TheWindstalker) November 15, 2016
Have any questions for the developers?
Join the EverQuest II Discord chat

From the EQ2 Forums:
KUNARK ASCENDING

Norrath remains in danger from Lanys T'Vyl, God of Malice, and her pursuit of power! Return to Kunark and adventure through unexplored lands full of strife as a powerful force of iksar plan to overthrow the lich emperor, Venril Sathir. Uncover dungeons long sealed or lost, amassing power and piecing together the history long buried, in an attempt to keep the last Chaos Stone out of Lanys' evil clutches!

It will take great courage to stand against the coming darkness and stop her from ushering in a new age of dominance by the gods. When the Tenets of Hate ascend to godhood, will you stand against them?

Kunark Ascending is the 13th EverQuest II expansion and brings new and exciting adventures to Norrath.

Journey to Obulus Frontier in North Kunark where you'll explore the ruins of Kaesora, fight through the Crypt of Dalnir in Warslik Woods, traverse the City of Mist, and adventure through more areas both familiar and undiscovered!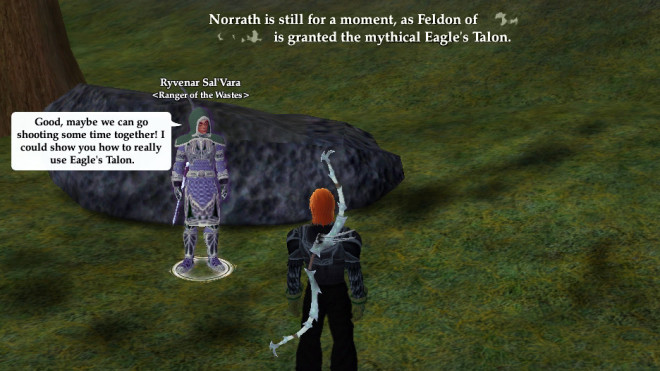 One of the proudest achievements in my EverQuest II history was acquiring my Eagle's Talon epic weapon while Kunark was still fresh, challenging content. It took many months to find groups to get all the various group updates, many of which required defeating the hardest enemies in the game. Other updates required faction grinding (urrrgh Reet!), collection quests, and other solo side quests. Sadly I could not find a screenshot of when I received the fabled Eagle's Talon, but I do have the above screenshot of when I acquired the mythical version during my brief flirtation with raiding.
When the Epic Weapon 1.0 quests went live in February 2009, nothing about them had been revealed as there had been no public beta test. They were a complete mystery. Players had to band together and use their knowledge of Lore to seek out the quest starters and find the updates and requirements themselves. Some classes took over a week to find their quest starter. Many of the quests had NO quest feather to help and some had extensive prerequisites requiring hours of gameplay to even start the quest. Fast forward to today, and most quests in EQ2 are expected to be straightforward and obvious, with few if any prerequisites.
Not surprisingly, the announcement that EverQuest II's upcoming thirteenth expansion Kunark Ascending would have some requirements and prerequisites from older content before players would be allowed to start the new stuff has been met with surprise and searing feedback. After much forum strife, one requirement was dropped: You no longer need to have done the Terrors of Thalumbra Signature quest before you can zone into Obulus Frontier, the expansion's new overland zone. That's not to say all requirements  have been dropped.