If you have not read the EQ2 forums much, you might not know Rothgar. He has been working very hard on improving the User Interface of EQ2. Specifically cleaning up and improving windows.
It was a pleasant surprise to me that the oft-forgotten Claim window has been rebuilt using existing assets, namely the Station Marketplace. It's a lot easier to navigate and can be browsed by Expansion, special Events, and you can easily view which Claim Items you have already acquired.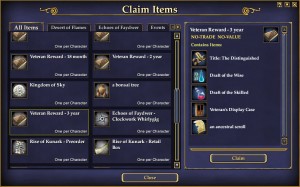 New Claim Window
Although some alternate User Interfaces have existed which provide a more advanced Quest Journal such as ProfitUI, Fetish, etc., it is nice to see a two-paned Quest Journal arriving in EQ2. Using tabs at both the top and bottom, the window becomes more vertically space-efficient. The Quest Journal is also home to an exciting new feature in EQ2 — Achievements.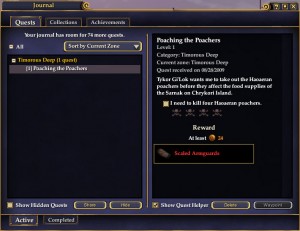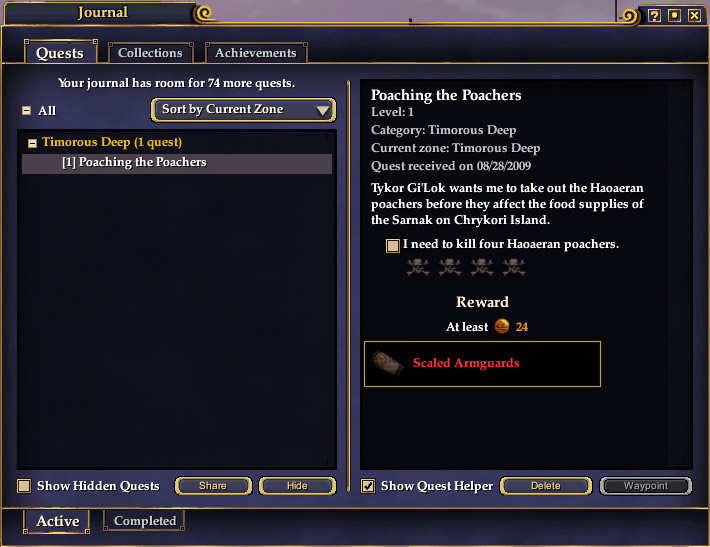 Quest Journal
Not to be confused with Alternate Achievements (AA), Achievements are game tasks such as:
Defeating Venril Sathir
discovering every Location in Greater Fay
Rolling a 100 in a Need Before Greed loot roll
Acquiring a 400 skill in Alcohol Tolerance
Slaying 25 Werewolves
Obtain 400 Transmuting
and then further achievements for clearing all the achievements in a particular Expansion or Zone.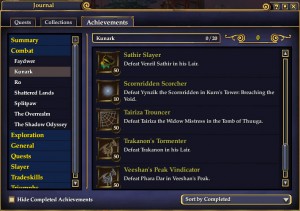 Achievements Window
Looking at the Achievements currently in place, it is clear that while this is just the beginning, the sky is the limit on possible Achievements that can be added. On Test, there are achievements for killing 25 Gnolls, or completing 10 Heritage Quests, or 100 Quests. I expect we'll see many more Achievements added by the time Gu53 goes live, as it is intended for this system to replace the Slayer Rankings.
I should add that while not every Achievement has a reward (sometimes the journey is its own reward), a select few do have some very nice rewards, including Titles (replacing the Slayer Poster/Title system), a teleportation device, as well as some exceptional clothing and armor appearances.