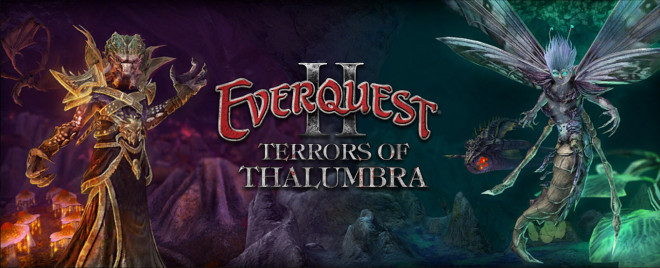 Tomorrow is the launch of Terrors of Thalumbra, EverQuest II's twelfth expansion!
From the EQ2 Forums:
All EverQuest II Live Servers will be brought offline on Tuesday, November 17, 2015 at 7:00AM PST* for the Terrors of Thalumbra expansion update. Estimated downtime is approximately five hours.

EverQuest II: Terrors of Thalumbra is scheduled to unlock to players at noon pacific** on Tuesday, November 17, 2015.
Time Zone Conversions
PST: November 17 @ 7:00am – Noon
EST: November 17 @ 10:00am – 3:00pm
GMT: November 17 @ 15:00 – 20:00
CEST: November 17 @ 16:00 – 21:00
and your Update Notes from the EQ2 Forums:
TERRORS OF THALUMBRA
Deep underneath Norrath lies a realm on the edge of the Plane of the Underfoot, known as Thalumbra. This expansive, subterranean domain is home to fabled races and ancient terrors!

When the dark shroud upon this land is pierced by Lanys T'Vyl, the recently resurrected demigoddess of Malice, it spells doom for all! You are a hero on the stage of Norrath. Will you play your part and protect Norrath from those who seek to destroy it? What mysteries will your torch uncover deep beneath the surface? Can you withstand the terrors of Thalumbra?