Today Robert "Caith" Fouts, Nathan "Kaitheel" McCall, and Kyle "Kander" Vallee were joined by EQ2 Community Manager Ry "Roshen" Schuller to talk about upcoming changes in this fall's expansion-sized Campaign, or as the EQ2 team has been calling — the Campansion. Here are my rough notes, subject to my interpretation and these are mostly not direct quotes. Any mistakes are my own!
Amplifying Infusing
Players have be able to upgrade armor through Gems and adding Essences to change the Damage type on Weapons. However this has been very limited as it requires the devs to create hundreds of items for each boost/change. A new feature is coming with this fall's Campansion #12 (Expansion-sized Campaign) called Amplifying Infusing which will allow items to be customized and upgraded on a more detailed level. Not all items in the game will be upgradeable, as this will be limited to items in the expansion and perhaps a few AoM/RC items. For example, you might get a bauble from a zone that allows you to boost stats or add a totally new stat to an item. You will be able to change the Weapon Delay (1, 2, 4, 6, 8) and Damage Type (Mental, Fire, Noxious) on Weapons.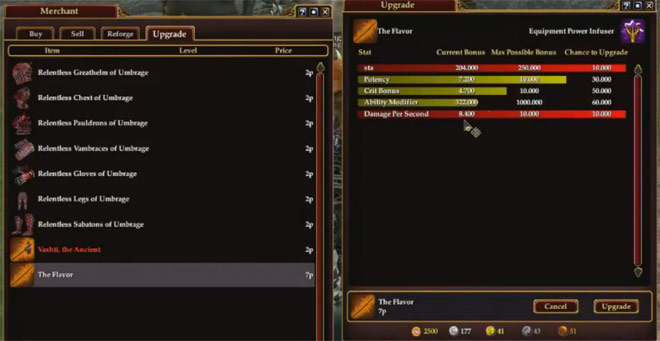 current prototype of Amplifying
Amplifying Infusing requires a dropped material (which could be rare) to boost an item. We're not sure what it costs just to change the stats, delay, or damage type on an item. The prototype shown just costs plat, but the finalized version will use a material. This will work alongside but not replace Reforging which will largely remain in its current form. The plan is to have a longer expansion Beta test this year so that more feedback can be collected on this feature.