LIVEBLOG: EverQuest II: Kunark Ascending Expansion Livestream – CONCLUDED

Today we're liveblogging EverQuest II's thirteenth expansion reveal. Rather than Twitch, the livestream is taking place on Facebook at 10am PDT, 1pm EDT, 6pm BST, and 7pm CEDT.
9:40am – Waiting for the livestream to begin.
9:59am — Kander is teasing a bunch of info in Discord chat I'm not allowed to share even though it's a public channel. Waiting for the stream to start.
10:00am – Livestream is now accessible on Facebook
In the livestream: Ry "Roshen" Schuller – Brand Manager, Holly "Windstalker" Longdale Executive Producer for the EverQuest franchise, Lauren McLemore – new Senior Producer for EverQuest and EverQuest II from Riot Games
EverQuest II Kunark Ascending is now available for pre-order from EverQuest2.com. Expansion will go live November 15, 2016. Beta starts October 11th, 2016. Blurb:
Norrath remains in danger from Lanys T'Vyl and her pursuit of power! It is up to you to keep Lanys T'Vyl from acquiring the third and final Chaos Stone. Return to Kunark to stop Lanys from ushering in a new age of power for Norrath's pantheon. Adventure through previously unexplored lands as you attempt to protect the last Chaos Stone from Lanys' evil clutches.

It will take great courage to stand against the coming darkness. When the Tenets of Hate ascend, will you stand against them? Journey to Obulus Frontier in North Kunark where you'll explore the ruins of Kaesora, fight through the Crypt of Dalnir in Warslik Woods, traverse the City of Mist, and adventure through more areas both familiar and undiscovered!
Expansion Versions:
Standard Edition $34.99

Mercenary Gear
Level 100 Character Boost including gear and mount
Arcanna'se Effigy of Rebirth
Mercenary Feature (previously in Altar of Malice and then sold a la carte)

Collector's Edition $89.99

Claz'zakla mercenary
Skyfire Phoenix mount
Cae'Dal Star portal to the new content
Ascended Merchant Crate – 80 slot vendor that reduces broker fees by 80%
City of Mist Waterfront Estate house plus decorations
plus the SE items

Premium Edition $139.99

Fenice, the Everburning Flame mount
Kunark Ascending Painting
Mercenary Gear Crate
Cae'Dal Merchant Crate — 100 slot vendor crate that eliminates broker fees
Premium Infuser
plus the SE and CE items
Holly and Lauren have left and now the game designers are talking. Rob "Caith" Fouts, Nathan "Kaitheel" McCall, and Chris Garlick.
New game features:
Ascension Classes

Another way to level/improve your characters
When you are "Ascended", you have an illusion form that changes how you look.
Each Ascension class has a different elemental damage type. Casting the Ascension spell converts all your damage to that type.
When Ascended, you have access to new utility, heal, and other spells and CAs and buffs.
These are like "Prestige" classes that complement your existing classes. This is not in any way "consolidation".
4 Ascension classes: Etherealist, Elementalist, Thurmaturgist, Terramancer
Combo abilities
All Ascended classes are available to all character classes. They are not tied to Archetype.
One character can work on all 4 Ascension classes and eventually reach Ascension Level 10 in all four types.

Epic 2.0 Weapons

The quests are mostly archetypal (Fighter, Mage, Priest, Scout) with specific subquests tied into your class and tying into old story lines from the original Kunark. All 26 classes will receive a brand new weapon at the conclusion of the quest with a new/upgraded appearance.
Must be Ascension level 5 to start the Epic 2.0 quest.
No feathers over people's heads, no blue POIs, sometimes invisible quests. We'll have to work together on the quest details.
You must have completed an Epic Weapon quest in Rise of Kunark to start the Epic Weapon 2.0 quest. If you completed your Epic Weapon on a Defiler and then betrayed to Mystic, you'll be able to start the quest without doing the Mystic Epic.
Epic Repercussions does not count as having done your Epic. Even if you complete ER, you can always go back and do your Epic the old fashioned way. You only need to complete the Fabled version.

Mercenary Gear

Rather than replacing older mercs that might not measure up, you can power them up with new equipment
If you purchase Kunark Ascending, you get the Mercenary feature included.
Player gear or MERC-ONLY gear can be applied to your mercenary.
Mercs start out with head, shoulder, and 2 other Merc Equipment slots. You then have to train your Mercenary (time investment, you can spend Daybreak Cash to speed up the time) to unlock the other 4 equipment slots.

Wardrobe tab

Items with an appearance can be consumed (destroyed) and added to your Wardrobe tab. It no longer eats up bag and bank space.
compatible with House-placed dummies.
From the livestream, it looks like 18 slots per slot so 18 Head items, 18 Shoulders items, etc.
More slots presumably purchased with Daybreak Cash.

New Tradeskill Recipes, Signature Quest, and Gear
Expansion Specs
1 New Giant Overland Zone – Obulus Frontier
12 New Heroic zones – Dalnir, City of Mist, Kaesora, The Ruins of Cabilis, and Arcanna'se Spire
1 Challenge Heroic Zone – City of Mist
8 New Solo Zones – Dalnir, City of Mist, Kaesora, The Ruins of Cabilis, and Arcanna'se Spire
4 New "Advanced" solo Zones – Dalnir, City of Mist, Kaesora, The Ruins of Cabilis, and Arcanna'se Spire
6 New Raid Zones – Dalnir, City of Mist, Kaesora, The Ruins of Cabilis, and Arcanna'se Spire
50+ New Solo and Heroic Quests
65+ New Collection Quests
4 New Archetypal Epic 2.0 Questlines [ Not being beta tested or available during beta]
4 New Ascension Classes – Etherealist, Elementalist, Thaumaturgist, and Terramancer.
New Wardrobe Feature
New Merc Gear Feature
New Threat List Window + Numeric Hotbar Timers
10:15am – Previewing the new Prestige Home which showcases some of the new architecture we'll see in the expansion.
10:18am – Showing the Pre-order items and prestige home items. Showing the new Phoenix mount from the Collector's and Premium editions.
10:22am – Roshen expresses concern that the livecast might take too much time.
10:25am – Previewing the Obulus Frontier zone. Northernmost part of Kunark. On the old maps of Kunark, the North side was unreachable. Previewing Warslik's Woods.
10:33am – Previews of dungeons.
10:38am – Roshen says there might be time for Questions & Answers as the team is "wrapping up" the livestream. Apparently Facebook has a 1 hour time limit.
10:39am – Developers answered a few questions.
10:47am – Livestream end.
Post-Stream
There will be no 13th year Veteran Reward.
No Heritage Quest in the immediate future as all efforts are going into Epic Weapon 2.0 quests.
Rewards for Beta Testing: New mount, one for questing and solo content, one for heroic testing. Raiders get something else. It's a patchwork pegasus exclusive to Beta.
Epic Weapon Quest Flowchart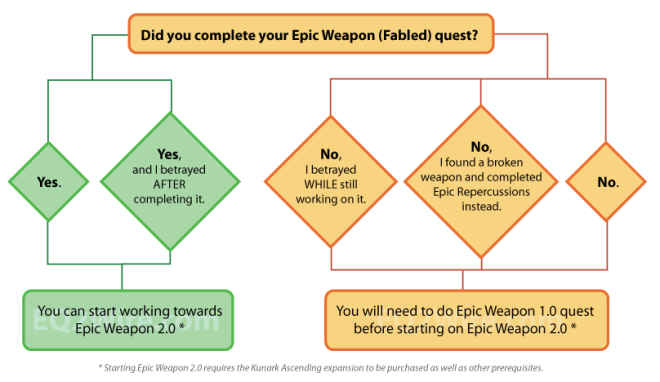 Trackback from your site.