Deathtoll PvP TLE Server Merges Into Stormhold Tomorrow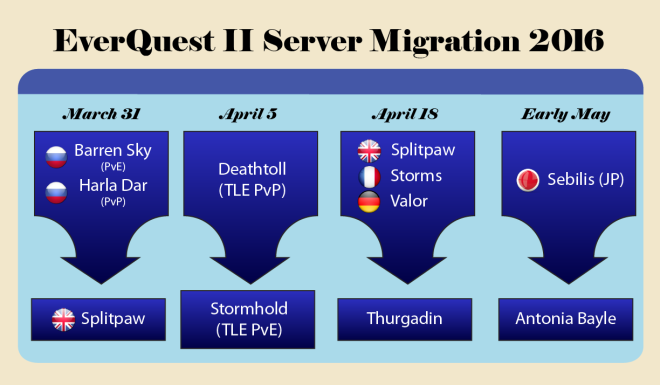 The Time-Locked Expansion servers Deathtoll and Stormhold will come down tomorrow morning in order to merge Deathtoll with it's PvE-only sister server Stormhold.
Time Zone Conversions
PDT: April 5 @ 2:00am – 2:00pm
EDT: April 5 @ 5:00am – 5:00pm
BST: April 5 @ 10:00 – 22:00
CEST: April 5 @ 11:00 – 23:00
Here's the official announcement from the EQ2 Forums:
Both Splitpaw and Deathtoll servers will come down for maintenance beginning at 2:00 AM PT (9:00 AM GMT) for an update to merge servers as mentioned here. Downtime is anticipated to be at least 12 hours to perform this operation.
Commentary
After today, EverQuest II will have no more Player-vs-Player servers other than the Battlegrounds server.
Trackback from your site.