EQ2Wire Liveblog: EverQuest II Spring Update Livestream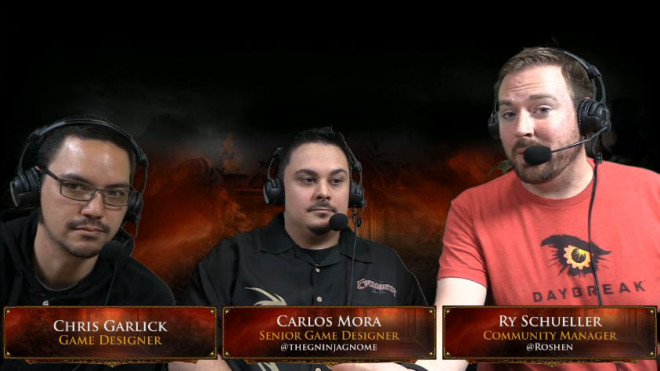 We liveblogged today's EverQuest II Spring Update Livestream on Twitch…
EQ/EQ2/Landmark Executive Producer Holly "Windstalker" Longdale, Lead Designer Kyle "Kander" Vallee, Senior Designer Carlos "Gninja" Mora, Senior Designer Chris "Chrol" Garlick, Designer/Systems Robert "Caith" Fouts, and Community Manager Ry "Roshen" Schuller presented a livestream today.
The new Spring Update — Game Update 100 (what happened to GU72?), becomes available to All Access subscribers on Thursday, April 28th. You'll need membership to play any of the content and to use the items. Beta starts April 4th.
The content starts in a version of the overland Zek known as Zek — the Scourged Wastes. In addition to Zek-based fabled zones (Advanced Solo, Heroic, and Raid zones), the EQ2 team wanted to tell a story by redoing the overland Zek, the Orcish Wastes zone. The overland zone is available in both Advanced Solo and Heroic versions and both versions have good-sized Signature quest lines. The Scourged version of the zone has been completely repopulated with newly modeled orcs. The old "Zek — the Orcish Wastes" is still accessible of course for level 30ish characters.
In this version, Deathfist Citadel has become Scourge Keep. Based on the same zone but revamped. There's a new courtyard.
Level 100 content

New Cyan adornments and Cloak Gems (purple adornments for cloaks that aren't War Runes)

Gear will complement Terrors of Thalumbra gear, mostly slots and things that weren't upgraded in ToT.
There are 16 heroic nameds in the heroic zone but you can only kill 6 per dungeon run. Each boss has their own loot table and they require special tricks to spawn like clicking on something. Also a challenge boss.
"Arena" event you can trigger to kill as many orcs before you die.
Lots of stuff to find and unlock in Scourge Keep. We're going for replayability and there are lots of reasons to go back and not the same dungeon crawl over and over.
Hint: There may be some places in the content where you can get Ethereal runes.
Plenty of new Achievements and a few hidden ones.
New shiny collections in Zek and in the instances.
New chests in the Zek overland which are opened with a new keys.
New recipes in both the Adv Solo and Heroic version of Scourge Keep.
Some new crafted white adornments.
New and better infusers in the fabled content.
Now to check out the Raid x4 zone — The Siege…
4 bosses. The 4th can be killed in Challenge mode. If killed, a 5th boss spawns in Challenge mode.
Boss #1 — any raid force in ToT can kill
Difficulty of Boss #2-4 ramp up.
Zone is reminiscent of Plane of War as far as names being spread out in a large arena, with patrolling trash in between.
This time around, the new Fabled zones, which are classic dungeons that have been upgraded to level 100 and with new loot added, are…
Temple of Cazic-Thule & Sanctum of Fear
Ruins of Varsoon & Chamber of Immortality
These updated zones are not super-difficult and it's the same mobs as the lower level zones. Fabled Cazic-Thule and Fabled Ruins of Varsoon are contested and spawn zones quickly so that there aren't too many players in one contested instance. Yes, Venekor will be making an appearance as an x4 contested mob. Not super difficult.
Flying Owl Mount
New flying Owl mount. There will be Solo and Heroic versions of the flying owl mount.
XP Vials
Adding a new system called an XP Vial where you can Siphon your excess XP into an XP Vial which you can sell to other players on the broker or transfer to alts. You can claim a bunch at a time. It is a tradeable item. Empty XP Vials must be purchased from the Marketplace. Combat XP only.
Shard of Love Being Updated to Level 100
The Shard of Love instance is being updated to level 100 with level-Agnostic. The first level 100 agnostic zone. If this is successful, then level-agnostic to 100 might roll out to other zones. Shard of Love will also become accessible on the Time-Locked Expansion server of Stormhold.
Heartbound
You'll be able to be Heartbound to another player. Basically in-game marriage. Both of you go to Shard of Love and type a command. If both of you are online, you get a persistent buff, a title, and it shows a special icon. If you decide to part ways, either of you can type a command to separate.
Double XP on Weekdays?
We're having Double XP starting today for the next week. We'll have more non-weekend Double XP events.
Mercenary Packs
New mercenary pack on the Marketplace.
LON Rewards on the Marketplace
It will be possible to buy Legends of Norrath rewards on the Marketplace in the future.
Beta?
During the livecast, it was indicated that Beta would begin on April 4th, however this has been updated on the EQ2 Forums:
We simply do not have the time to conduct a full open beta for this release, we have to already be into the next thing we are doing like yesterday. We will be using a seasoned group of content testers that we have used for many content releases. If you're really interested in helping beta test, drop me an email and I will see what we can do.
This is was a LIVEBLOG presented by Morgan Feldon of EQ2Wire. I hope you enjoyed it.
Tags: game update 72
Trackback from your site.