Chronoportals (EQ Anniversary Event) Returns to EQ2 March 19 til March 26th!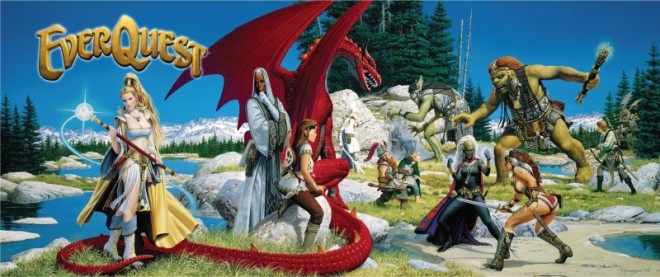 EverQuest just celebrated its 16th anniversary and for the last few years, that's meant celebrations not only in EQ but in EverQuest II by way of the Chronoportals event. From the EQ2 Forums:
Portals to the Age of Turmoil have, once again, opened up in Antonica, Enchanted Lands, Thundering Steppes, Steamfont, Lavastorm, Sinking Sands, Feerrott, and Moors of Ykesha. Will you adventure through these portals to investigate them?

The Chronpportals event starts at 12:01AM PDT on Thursday, March 19, and ends at 11:59PM PDT on Thursday, March 26, 2015.

New features for 2015

New Quest – Hunt the Past

Seek out Tazstra K'Rzheett in the Commonlands. What does this suspicious character desire?

Erben and Distun Delki, the Chronoportal merchants, have three new paintings available:

Hidden in the Mists
Beasts of Cazic-Thule
Entering Unrest

For more information about this event, check out some of our fan sites! Zam has a great Chronoportal write up on their site.
From EQ2 ZAM:
Celebrate the original EverQuest's anniversaries with special in-game events in EverQuest II! Portals to a time ages ago have opened across Norrath. Adventure, intrigue and a flashback to the days of yore await those brave enough to enter the chronoportals!
Trackback from your site.