Altar of Malice Frequently Asked Questions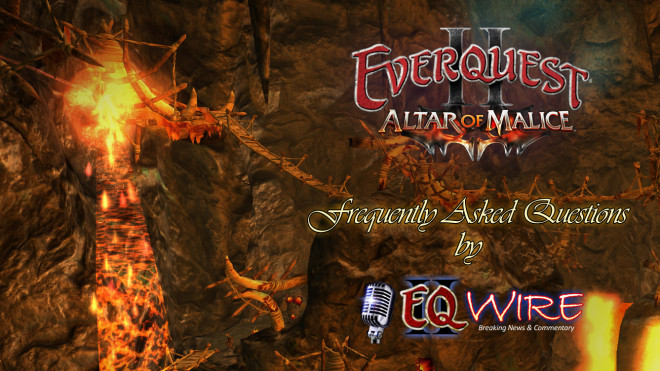 Table of Contents

Q: So what's new in the expansion?
Adventure, Tradeskill, and Guild levels can now all go to 100.
100 new Quests including new Signature line for the expansion
All new level 96-100 harvestables, spells, recipes, armor, weapons, etc.
Two new Tradeskill questlines by Domino
Two new Overland zones (The Phantom Sea and The Tranquil Sea).
Ten new Heroic zones with 4-5 bosses per zone.
Five new Event Heroic zones with a single ring event and boss (10-15 minute zone!)
Two contested Heroic zones for leveling from 96-100 (if you prefer to grind).
Six raid zones, many of which are tuned for entry-level raiding
Avatars of the Gods gets 4 more Avatar raid fights

New PvP Gear

Nearly all spells can be upgraded to Grandmaster from level 1-100.
New "Ancient" spells/combat arts.


Q: How do I jump into the new expansion content?
A: In short, travel to either Qeynos or Freeport and find the new quests. For the longer version, check out these guides from EQ2 ZAM:
And Niami Denmother's Altar of Malice Tradeskill Preview/Guide.

Q: Why am I not gaining levels?!
A: Don't forget to adjust your AA Conversion slider from 100% to 0%!

Q: Are the new overland zones and dungeons re-skinned/re-textured versions of existing zones like we got in the past?
A: Using the brand new "Terrain Tool", the EQ2 Art team have been able to build completely new overland zones with incredibly detailed scenery in a fraction of time it used to take. You might do a double-take and say "How is this an EQ2 zone?" when you see the new zones for the first time. If you can't wait to login, you can see zone flythroughs of the new Altar of Malice zones.

Q: Is there a new harvest tier for the expansion, or does level 90-100 become a tier?
A: Tier 10 will stay Levels 90-95 harvests, transmuting materials, adornments, recipes, etc. A new Tier 11 has been added which has a whole new set of harvests, transmuting materials, adornments, recipes, etc. for levels 96-105. Check out EQ2 ZAM's updated Harvesting Guide including all the new Tier 11 materials.

Q: What material do I use to make Grandmaster spells?
A: The new Tier 11 Grandmaster rares are Transcendent Spellshard & Transcendent Foundation. Check out our EQ2U Grandmasters article for a materials chart for all the components you need to make Grandmaster spells from levels 1-100!

Q: Are there new Alternate Advancements (AA's) or Prestige Points in the expansion?
A: The AA cap is still 350, and other than the requirement to have 280 AAs to pass level 90, there is no limitation requiring you have to have a specific number of AAs to pass level 95. Not sure how that nasty rumor got started. There is a new Prestige tree for all classes. Some of the endline abilities are shared between classes while others are unique between classes.

Q: What's up with the new Ancient spells? How much better than Grandmasters are they?
A: Last month, the bar for player Spells and Combat Arts was raised from Master to Grandmaster. Previously, only 4 spells per level tier were available to upgrade as a player choice. With rare harvested materials, patience, or StationCash, players can upgrade nearly every spell or combat art in the game to Grandmaster.
Today with the release of the Altar of Malice, the bar is raised again, as a handful of spells become available in Ancient quality. Ancient spells/CAs are really just Master III spells, with a 3-5% increase in power over a Grandmaster and 8-10% increase in power over a Master. But for those who want to squeeze every drop of power out of their characters, these will become much sought after. To scribe an Ancient spell, which are extremely rare drops, you must have already researched or crafted your Grandmaster spell. There are only 3-5 Ancient spells per class, available at all tiers (1-100).
For instance every version of the Ranger buff Archer's Fury is available in an Ancient version.

Q: What new Contested Heroic zones can be found in the Altar of Malice?
A: There are two contested Heroic zones for those who want to grind levels:
Brokenskull Bay: The Pirate's Cove [Contested] — Level 95-98
Ossuary of Malevolence [Contested] — Level 99-100 (similar in difficulty to Kael Drakkel)

Q: Can't I just go grind levels 96-100 in Skyshrine, the Hole, High Keep, or Kael Drakkel?
A: The EQ2 developers really want us to try out the new content, so they've reduced the XP in all the old contested zones by something like 90% if you are level 95+. You may still use these old zones to grind AA XP.

Q: Why do I no longer have 20% bonus to XP for each of my Veteran characters?
A: The level cap is now level 100 for adventure and tradeskill. To receive the 20% Veteran bonus for each level-capped character that character must be, you know, capped!

Q: What new Heroic zones can be found in Altar of Malice?
A: There are ten Heroic zones with the usual 4-5 bosses and final named:
Zavith'loa: The Lost Caverns
Zavith'loa: The Hidden Caldera
Brokenskull Bay: Bilgewater Falls
Brokenskull Bay: Hoist the Yellow Jack
Castle Highhold
Ssraeshza Temple
Castle Highhold: Thresinet's Den
Ossuary: Resonance of Malice
Ssraeshza Temple: Inner Sanctum
Ossuary: Sanguine Fountains
There are also five Event Heroic zones with a single boss and ring event. These zones are intended to be run in 10-15 minutes:
Zavith'loa: The Hunt
Brokenskull Bay: Bosun's Private Stock
 Ssraeshza Temple: Taskmaster's Echo
Castle Highhold: Insider Treachery
Ossuary: Choir of T'Vyl

Q: What about Solo or Advanced Solo dungeons?
As Advanced Solo zones have crept up in difficult to really require 2 players or one exceptional player with a merc, new Solo versions have been added. When working on your Signature quest, make sure you zone into the correct zone. In some cases, there's a special instance designed just for the quest, so you'll have to pay attention closely.
For the expansion, there are six Advanced Solo zones, with all but the first Zavith'loa available in a Solo version as well.
Zavith'loa: The Lost Caverns
Brokenskull Bay: Bilgewater Falls
Zavith'loa: The Hidden Caldera
Castle Highhold
Ssraeshza Temple
Ossuary: Resonance of Malice

Q: What Raid content is there in Altar of Malice?
A: Here are raid zones we know about, roughly in order of difficulty:
Zavith'Loa: The Molten Pools
Castle Highhold: No Quarter
Temple of Ssraeshza: Echoes of Time
Brokenskull Bay: Fury of the Cursed
Ossuary: Cathedral of Bones
Ossuary: Altar of Malice
Precipice of Power — where the new Altar of Malice Avatar fights are summoned

Q: How do I get into Castle Highhold?
You'd think that you would just fly into the castle (as you can) and land and automagically zone, or knock on the front door, but actually, you have to fly down the cliff face and find a sewer pipe and click on the tiny drain pipe cap on top of it. Thanks to Osgz for this screenshot: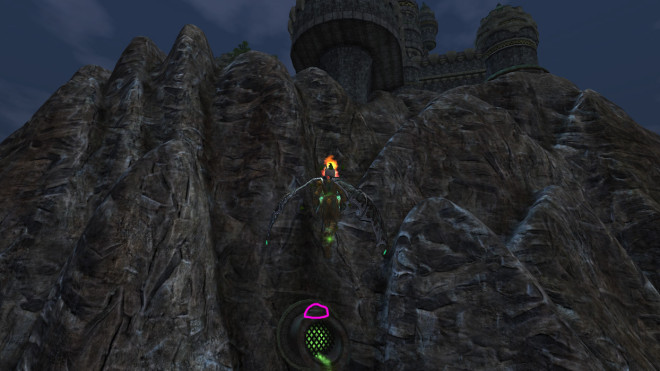 Q: Help! There was some really important information on the Altar of Malice beta forums but they've disappeared!
A: Have no fear — EQ2Wire is here! We have preserved a backup of the Altar of Malice beta forums.
NOTE: The EQ2 designers and developers need to feel comfortable posting their opinions and best guesses in Beta forums without the fear that they will be crucified years later because they go down a different path. PLEASE do not use this archive to yell at the devs and say "You promised X". They are preserved for informational purposes only and anything posted in them is subject to change!

Q: What itemization changes have there been in the expansion?
A: Altar of Malice largely builds on the Tears of Veeshan itemization, so there won't be a big "reset" this year.
One big change is Physical Mitigation and Resists have finally been fixed. You'll need a substantial amount of these stats to survive the harder expansion content.
Poisons have been dramatically boosted and are now entirely useful to Scouts and will be a significant part of their damage again. I anticipate a lot of Rangers and Assassins respeccing into that Poison (INT) line and dumping Weapon Damage Bonus gear for Potency gear.
Food/Drink in the expansion has also been dramatically boosted in power (some would say too far) and are now basically equipment slots as far as the stats, health, and power boosts they provide.
Adornments are now available in "Adornment Sets" which means that applying more than one adornment of the same type will provide a bonus effect. EQ2U fully supports these new adornment sets. Also adornments have generally been improved in power so that most equipment will now have just one white slot.

Q: What about Critical Chance/Critical Avoidance?
Rather than continuing the Critical Avoidance rat race, a new mechanic has been added so that having more than 100% Crit Chance is useful again. It is our understanding that the new soft cap (where diminishing returns really get annoying) is about 1,400% Crit Chance.
A Legendary Critical hit takes the damage you would have had with a normal one and increases it by 25%.
A Fabled Critical hit takes the damage you would have had with a normal one and increases it by 100%.
A Mythical Critical hit takes the damage you would have done with a normal one and increases it by 300%.

At 100% Crit, you will have a 1% chance to get a Legendary critical hit. At 500% Crit, you will have a 1% chance to get a Fabled critical hit. At 700% Crit, you'll have a very small chance to get a Mythical critical hit.

Q: If I buy the Altar of Malice expansion (either standard or collector's edition), Do I Get All Past Expansions (Chains of Eternity, Tears of Veeshan)?
A: Purchasing the Altar of Malice expansion gets you all past expansions including Chains of Eternity and Tears of Veeshan. Excluded are the Channeler class (originally part of Tears of Veeshan), and Mercenaries, Tradeskill Apprentices, Reforging, Dungeon Maker, etc. (originally part of Age of Discovery). These are all separate purchases now.

Q: Do Guilds get any new Guild Hall Amenities for levels 96-100? 
A: According to Niami Denmother of EQ2Traders, there is a totally new depot for level 100 — a Scroll Depot. This depot will hold both recipe and spell scrolls (adepts, masters, etc.) and can hold 1000 different unique items. At level 100, several existing depots can be purchased in larger versions including:
Harvest Supply Depot (Large) – ?? slots
Collection (Large) – 10,000 unique items
Lore & Legend (Large) – 1,000 unique items
Potion, Poison & Totem (Large) – 400 unique items
Fuel (Large) – 200 unique items
Ammo (Large) – 2,000 unique items
Food & Drink (Large) – 4,000 unique items
White Adornments (Large) – 1,000 unique items
We'll be posting more questions as we get them!
Trackback from your site.