Double Guild XP Weekend (July 18-20) and EQ2 Caption Contest for July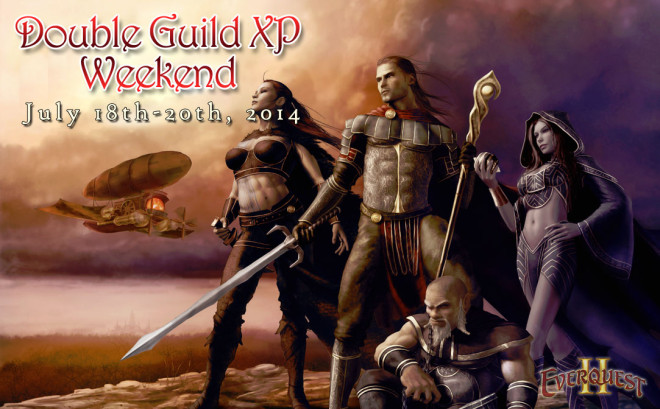 As announced on this week's EQ2 Insider webcast, this is a Double Guild XP Weekend! The event will run through 11:59pm Sunday night Pacific Daylight time.
EQ2 characters who complete writs, tradeskill work orders, completing certain quests, kill certain NPCs, or turn in status items receive Personal Status on their Character. 10% of that amount is also given to the character's guild. For this Double Guild XP weekend, that amount doubles to 20%! Note that there is a rare Legends of Norrath-looted item which increases your normal amount to 11%. It's unknown if that stacks this weekend.
From the EQ2 Forums:
Norrathians!

It's time to band together with your fellow guildmates or find a guild and venture into the world! This weekend starting Friday, July 18th, 2014 at 12:00 PM PDT until Sunday, July 20th, 2014 at 11:59 PM PDT, the EverQuest II Development Team is providing you ALL with DOUBLE guild experience!

Also, if you didn't tune into the latest EverQuest II Insider, we've announced our July Contest! Submit your photo to the sweepstakes for your chance to win 2500 Station Cash! This contest starts at 12:00 AM PDT Friday, July 18th, 2014 and ends at 11:59 PM PDT on Thursday, July 31st, 2014!

Three winners will be chosen in this caption photo contest by various SOE staff! Capture your guildmates doing silly things, put your house actors into a scene, snap a shot, and add a few chat bubbles here, and there to provide viewers with a great story, or a funny skit!

We can't wait to see your submissions and we look forward to hearing about your guild adventures this weekend on the forums, Facebook, Twitter and Google Plus!

Happy hunting!

/Margaret "Luperza" Krohn
Trackback from your site.