SOE Divorcing ProSiebenGames; EQ2, PS2, DCUO Players Come Home July 1st!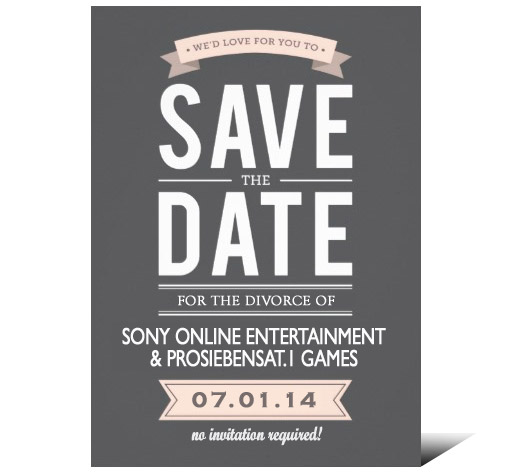 After over two years of drama, with SOE customers feeling cut off, marginalized, and second class just for living in Europe, the grand experiment of German media conglomerate ProSiebenSat.1 managing SOE customers in the EU region is finally over!
When it was announced that Sony Pictures had licensed their entertainment library to PSG to try to be the Netflix of Europe, the writing was on the wall that SOE gamers might be along for the ride. While I do think Sony Online Entertainment eventually made some heroic efforts to try to make this deal work — after a few scathing reviews penned by this and other gaming sites — the deal was likely doomed from the start. ProSiebenSat.1 had never handled a AAA MMO title, let alone three, and the inexperience of its fledgling Alaplaya brand at supporting anything beyond F2P browser games became apparent even before the SOE-PSG transition began.
Much like the ill-fated Ubisoft takeover of EU-based EverQuest Live accounts in the early 2000's, and despite promises of localization improvements and copious advertising, these deals seem to only ever end up souring the playerbase and having a negative impact on server populations and general goodwill.
As of today, June 18, 2014, new EverQuest II, PlanetSide 2, and DC Universe Online players in Europe now do so with SOE. And as of July 1, 2014, existing EQ2, PS2, and DCUO customers will be transferred back to SOE.
After the jump, the official statement from Linda "Brasse" Carlson on the SOE forums:
To our EU players,

We constantly review community feedback via all channels and want to thank you for your ongoing dialog. We wanted to let you know that Sony Online Entertainment and ProSiebenSat1. Games have jointly decided to migrate all PSG accounts for PlanetSide 2, DC Universe Online and EverQuest II back to SOE in the near future. Please take a moment to read the FAQ, and watch for updates as we iron out the details of the process!

CLICK HERE FOR THE FAQ & DISCUSSION THREAD!

As of today's date (June 18, 2014), region locks have been lifted. New EU residents wishing to register should do so via SOE hosted sites.

On or about July 1, 2014, we will offer PSG players the opportunity to migrate their existing accounts to SOE account management, in order to continue playing SOE games. All earned status, characters and in-game coin will transfer with the account.

Your payment details and personal information will not be transferred. When a transfer is initiated, only the ProSiebenSat.1 Games account name, character information, Seven Cash balance, and other game-related data will be provided from PSG to SOE, exclusively for migration purposes. You will need to have an existing SOE Station Account or create a new SOE account, subject to SOE's Terms of Service and Privacy Policy, in order to continue playing the games through SOE's service. You will also be required to enter your payment details if you wish to make purchases through your SOE account.

After migration, EU players with existing memberships will be automatically upgraded to SOE All Access Memberships. All EU residents will have the opportunity to purchase All Access memberships at the same rate as the old, single-game memberships, and enjoy all SOE games as well as a monthly 500 Station Cash claim, marketplace discounts and many promotions.

In even more exciting news, SOE Player Studio (EQII, EQ, PS2) is also expanding its scope to include submissions from EU countries, starting with Germany, France, Denmark, Norway, Sweden and the UK. Testing of the new tax registration process is already well underway!

Lastly, we want to thank you all for your dedication to the games, your support and invaluable feedback. Please keep it coming so we can make this the best possible experience for you now and in the future.

ProSiebenSat.1 Games
Sony Online Entertainment
Read the Frequently Asked Questions >>
Trackback from your site.