Point of Need: Revival of the Revive Button
Anything can change in Beta, but at least right now on Tears of Veeshan beta, a new "Point of Need" option is being tested in the Revive window: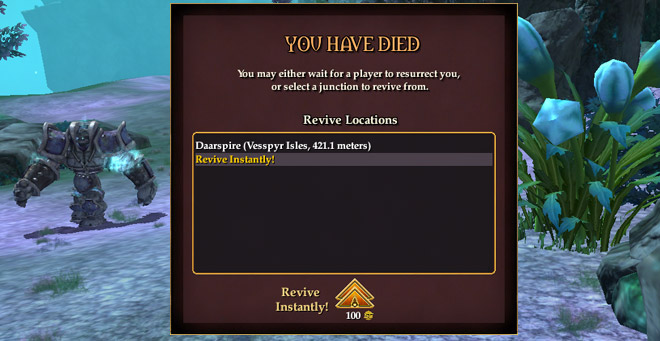 The large "Revive Instantly!" text and  Double Up icon at the bottom of the window ONLY APPEAR when the player selects the small yellow "Revive Instantly!" text within the list of revive spawn points. In last year's Chains of Eternity beta, I believe this feature was much more "in your face" as I recall the large double arrow icon and text appearing at all times.
At SOE Live 2012 in the Business of EverQuest Franchise panel, Dave "SmokeJumper" Georgeson talked about how Point of Need features could be a financial boon to SOE without being nearly as obtrusive as the paywalls of other Free-to-Play games. This Revive feature seems to build on existing Point-of-Need features including Researching spells and, more recently, Map Travel.
EQ2Wire Asks
What do you think of the new Revive Instantly feature? Is it still obtrusive or has a reasonable compromise been struck?
Trackback from your site.