BUG!!! European Countries Disappear from "Add Credit Card" Screen in EU
UPDATE
Ok folks, we just got word from Dexella on the EQ2 Forums at 11:54am PDT that this is a BUG and will be fixed soon:
Hey all,

We are looking for a fix to the issue that caused the removal of the countries from the credit card list. 

In the meantime, you can update your account by using account management on the SOE General site (rather than EQ2-specific). On soe.com, select "My Account" from the top navigation and proceed from there.

Thanks,
Dexella
A number of European EQ2 players who are currently "free-to-play" or otherwise do not have an active credit card associated with their SOE (Station) account, are now finding themselves unable to add Europe-based cards to their accounts. Here is a screenshot of what European players are seeing on the Add Payment Source page. Notice Poland is missing: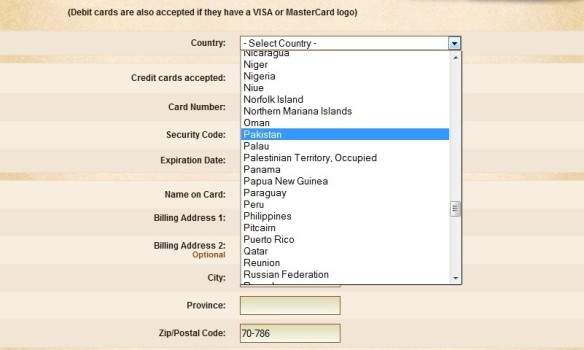 With EQ2 being free-to-play, it's a perfectly reasonable situation for an account well-stocked with StationCash to not have any active credit card associated with the account. If those players are now unable to add a Europe-based credit card going forward, then that will significantly complicate further funding the account with StationCash, or buying future Expansions.
As a test, I tried to add a credit card to my US-based account which has never had a credit card associated with it, and I am still able to choose European countries: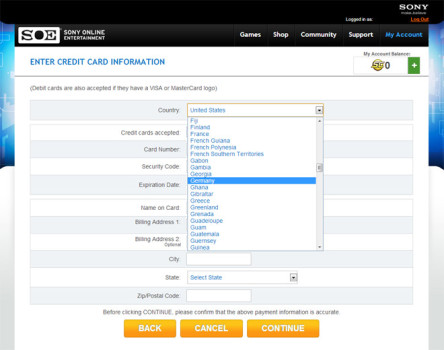 We will be seeking clarification from SOE on this issue (it's still 7am on the West coast) and hopefully have an update. This issue is being discussed on the EQ2 Forums (which all countries* are thankfully able to access).
UPDATE from Dexella on June 24:

Hey everyone,

We are looking into the EU/credit card issue now.
UPDATE from Dexella on June 25 @ 12:30pm PDT:
Update: we do have a fix in process for the credit card issue. We don't have a firm ETA yet, but it may be updated as early as this evening. We'll do our best to keep you posted.
UPDATE from Dexella on June 25 @ 5:24pm PDT:
The CC issue should now be fixed.
This news was first brought to our attention by Kinya who runs a Polish EQ2 fan site.
*Not applicable in North Korea, Cuba, or Tragickistan.
Trackback from your site.