SOE Live Player Panel Submissions Open until May 31st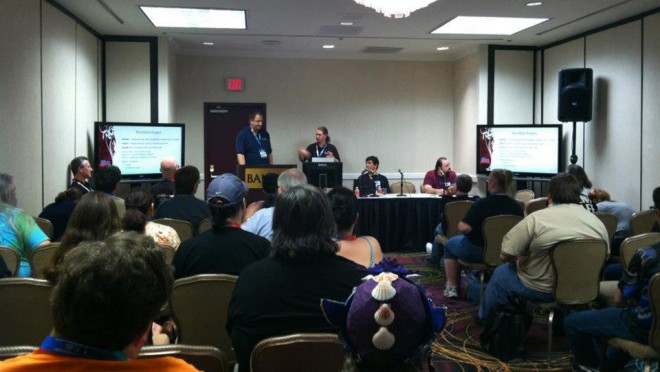 From EverQuest2.com:
Calling All Player Panelist Hopefuls!

SOE LIVE Player Panel submissions are OPEN!

The biggest hit of SOE Live last year was the inclusion of player panels for the first time. We loved 'em, YOU loved 'em, and they'll be back for 2013! We'll have panels on Friday, Saturday, and now Sunday as well!

We are looking for panels on any subject that will be of interest to SOE Live attendees. Here are some suggestions to get you started:

Managing a Guild
Guild Leaders Support Group
How to run a raid without losing your mind
L337 gameplay tactics (in any SOE game!)
How to win in PvP
Roleplay in the 21st century
Running an in-game event
Cosplay tips and tricks
Why SKs are overpowered (just kidding!)
Player Studio
Fan Sites
Livestreaming – how to!
Making videos
Fan Art and/or Fan Fiction
Mastering the art of… ?
Another amazing topic that we've never thought of!
ABOUT TIME! How long do we have?

We are accepting panel submissions NOW, and until midnight Pacific Daylight Time, May 31st. We'll accept as many panels as we have room for, and will complete the selection process by mid-June. Spaces are NOT first-come, first-served, so spend plenty of time on your submission to make sure we have all the information needed!


WHAT'S IN IT FOR ME?

Fame! Notoriety! Adoration of the Devs! We're also throwing in a free All Access pass to SOE Live for panelists. We do NOT cover meals, transportation, add-ons (like the Dev Brunch), nor, regrettably, beer.

If you or your panelists have already bought your SOE Live pass, we will credit you for it if your panel is chosen for the event.

SO HOW DOES THIS WORK?

How many people on a Panel?
One to four people total per panel. Choose, but choose wisely! NO, you can't put your whole guild on a panel for free passes, but nice try!

If you need help?
If you need a moderator/host to pose questions to your panel, we'd be happy to provide one!

What tools will we have?
We'll have a PC (with PowerPoint, speakers, and video capability) and display screen in every session room, so if you have a presentation to go with your panel, you can bring your laptop or put your presentation on a USB stick. We'll also provide microphones so that you don't have to yell… unless you want to. We can even provide hecklers if you like!

Note: Your session MAY be photographed or recorded. You are in the spotlight! Comb your hair (optional), calm your nerves, and enjoy!

OMGWTFBBQ?!!!? Any other questions? Ask Brasse! Email communityevents(at)soe.sony.com or find her on Twitter: @Brasse
The SOE Live Player Panel Submission Form (a list of questions to fill out and e-mail to SOE) is at EverQuest2.com
Trackback from your site.