Enough is Enough: Chains of Eternity Raids Broken For 3 Months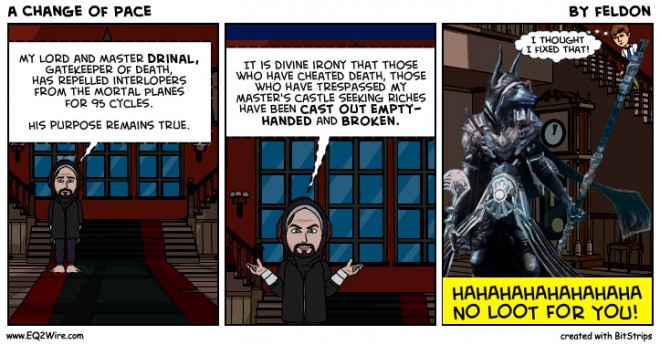 Enough is enough. It has been three full months since the launch of the Chains of Eternity expansion and the bosses of the expansion are hopelessly broken.
During the Chains of Eternity beta, there were warning signs that something was seriously amiss. On one hand, the Skyshrine and Chains of Eternity raiding ended up being so easy that the top 10-15 guilds per server had cleared nearly ALL the content within 48-72 hours of release. On the other hand, Drinal launched essentially unkillable. Not challenging. Not difficult. Broken.
In an attempt to contrast between the great raid encounters in past EQ2 expansions and the relatively uninspired ones in more recent content,  Arabel (slippery on the forums and leader of Equilibrium of Antonia Bayle server) posted a virtual Raid Design Manifesto. It is unknown if EQ2's current raid designers absorbed any of its wisdom.
It's not as if attempts haven't been made to remedy these issues. There have been nearly a dozen patches all touting fixes and tweaks, yet the core issues with the fight remain.
While I do give credit to Gninja on the EQ2 team for engaging players in the two threads (Drinal Raid Feedback and Is Drinal Coming Back?), the end result has been scarcely better than the radio silence we used to endure.
As of today:
Drinal is fought in two stages: Stage 1 is fought standing on a stationary elevator (lift). At 50% health, Drinal stoneskins. Stage 2 is fought in Drinal's tower after the elevator has risen to the top. Raid fights that require an elevator are a serious problem because of how

easy it is for players to fall through elevators in EQ2

in case of even minor lag.
Drinal's

Stage 1 and Stage 2 scripts often bug out

, causing uncurable curses, nox, etc. to get "stuck", making the fight impossible.
Drinal's elevator has even been known to

start falling again

towards the end of the fight, making him unkillable.
Tanks get a detrimental called Transfiguration. If the tank loses agro, then all fighters die. This is a challenging but survivable test, except that Drinal memwipes often, even when a player has Transfiguration. This is an

impossible-to-workaround failure

.
When he resets, Drinal (x4) can still 

crash the entire Harrow's End zone for all players on a server

. This problem was identified at launch.
Exhaustive Souldrain, another detrimental, is

not showing in some players' Detrimental window

, making it impossible to mitigate its effects.
Drinal is still putting a

second incurable curse

on some players during phase 2 of his fight, despite the fact he's not supposed to.
Players are

unable to even see Drinal

, despite switching alternate models on and off.
At 50% health, when Drinal stoneskins and the elevator starts moving, he

DOES NOT drop all the detrimentals

he has on players, causing serious problems if Transfiguration or Souldrain are in effect.
Keep in mind these problems exist after 7 weeks of raid guilds having these problems AND only a 50-50 chance of getting loot. Then he was removed from the game for 2 weeks for "exhaustive testing", and now that he's back, still has all these problems. Seriously?
And the issues aren't isolated to Drinal:
Fitzpitzle (x4) can be one-shotted and respawned, allowing multiple bites at the loot apple. I have personally seen this.
Harrow's End (heroic) zone is completely unnavigable as the teleporter from Olgar's room to Drinal is broken.
Serious lag spikes in Harrow's End (raid) on Drinal, Fitzpitzle, etc. causing the zone to crash and roll back for ALL players on a server.
Game Update 65.5?
We are now one week away from the launch of a mini Game Update which will be introducing two new raid zones. These new zones aren't even on Beta, yet here we are in mid-February and the expansion's launch zones are still seriously bugged. It's no wonder that Raid guilds are questioning their sanity at continuing to beta test SOE's raid content on live servers.
It would be one thing if SOE were pushing the envelope with elaborate, interesting, challenging, by-the-seat-of-your-pants encounters like Roehn Theer and most of the Underfoot Depths. But most of the encounters in Skyshrine and Chains of Eternity have been more ponderous than provocative, more average than awesome.
Norrath's Funniest Home Videos
There has to be some humor in all this, and the funniest video (NOTE: Language!) to come out of all this (Arabel has posted several) is one showing Drinal's elevator starting to go back down at 14%. You can't make this stuff up.
Conclusions
What should we conclude from this? Is EQ2 on too aggressive a release schedule? Are enough resources being dedicated to creating heroic and raid content? Writing a fun, challenging raid that avoids the common pitfalls is like threading a needle. Maybe time should be allotted for EQ2 devs to join raid guilds so designers can see and understand these issues first hand, rather than having to takes player's words for it (or not).
Trackback from your site.