GuildProgress Closes Its Doors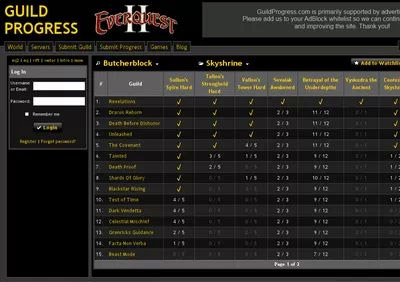 What makes people competitive? What makes people want to put their reputation on the line and be compared and judged by others?
At the conclusion of any sports event, one team experiences the euphoria of victory while the other is left asking themselves where they went wrong with their offensive or defensive strategies and what they could do better. But while sports are the obvious example, competition can be found everywhere. In academics. In Barbecue. In growing the largest tomato. People will make fools of themselves on national TV just for the chance to win a few bucks. So it's not unexpected that pockets of competition would develop even within the humble Massively Multiplayer Online game.
This week saw the closure of GuildProgress, a third party website which tracked the progress of raid guilds in defeating specific raid targets. This was x2 and x4 raid bosses in instances, contested zones, as well as contested enemies out in the world such as avatars.
Because SOE has yet to provide specific enough data through its Data Feeds API to track specific kills to specific guilds, GuildProgress was an entirely user-submitted operation. Were everyone as honest and forthcoming as Lance Armstrong, this wouldn't be a problem. However due to less-than-savory individuals, the operator of GuildProgress faced an onslaught of e-mails filled with claims and counterclaims challenging the legitimacy of even the most straightforward kills.
EQ2's Achievements system allows for the identification of which characters have killed a specific enemy (when those Achievements are not bugged) but it doesn't tell you what guild that person was a member of at the time. Item Discoveries can't easily be tied to which zone the player was in at the time the item was discovered. At this point, there really there is no way to automate such a service.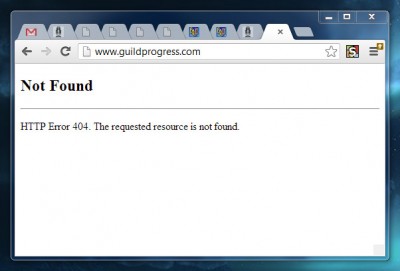 Players trying to access GuildProgress (either his EQ2, WoW, or Blog sites) received the above message.
People have asked if EQ2Wire has plans to develop such a site. I've hesitated because I would face the issues that GuildProgress did. For all its faults as a website, the owner likely did the best he could. With how easy the Skyshrine and Chains of Eternity raid content has been compared to Drunder, is there really a need for a Progression website?
Trackback from your site.