9 Year Vet Reward: 7 Item Unattuners and 50 Slot Veteran Display Case
Today, November 8th, is officially EverQuest II's 8th birthday. After the celebrations, long-time players want to know what presents they can expect! Specifically, they want to know — Will the EQ2 team try to outdo past unique Veteran Rewards?
Last year's 8 year item — Veteran Revival — provided a groupwide resurrect which was a bit slow to cast but has still saved more than a few groups and raids from the jaws of death. Earlier today we talked about Call of the Veteran, or which must be known internally as the "Item From Hell". It was a unique item, and I use it almost every day, but it does tend to bug out from time-to-time.
So you may be wondering why are we talking about a 9 year Veteran Reward when the game is just 8 years old. It so happens that the first four expansions each granted 90 days of additional accrued game time. This practice concluded with the Rise of Kunark, meaning the first four expansions credit one full extra year.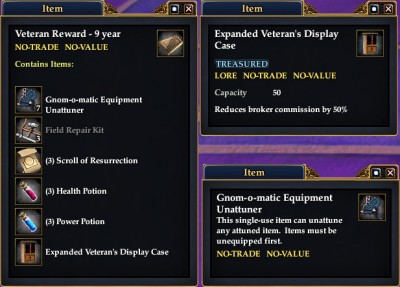 So what is it already? Sheesh!
Actually, the answer was right under my nose — in our super nifty "Last 100 Discovered Items" page on EQ2U. This page lists the last 100 items which have been discovered in EQ2 on any live server. Looking at the page, it seems there's a very happy Beastlord in Validus on the Splitpaw server tonight. But I digress… the "Veteran Reward – 9 year" was first discovered Tuesday afternoon so let's take a look at it:
Field Repair Kit [3]
Health Potion [3]
Power Potion [3]
The Good: Unattuners are always popular. Sometimes you have an amazing or difficult-to-attain item that you want to gift to an alt. And a new Veteran's Display case with even more room will help those who struggle with Broker space.
The So-So: People are always looking for something new, and this year's Vet Rewards mostly build on past rewards, plus a few rare (and not-so-rare) StationCash, Legends of Norrath and Goblin Game items. Incidentally, the EQ2 team have been talking about overhauling the EQ2 Veteran Reward system to be token-based so that players can buy specific rewards in a different order than they have traditionally been granted.
What do you think?
Is this a substantive pat-on-the-back for EQ2 lifers?
Tags: call of the veteran, veteran rewards
Trackback from your site.