EQ2U: Introducing Achievements
The Data Feeds (Census) panel is just starting in Las Vegas and Dethdlr and I will be presenting a talk about how EQ2U started and our plans for the future. The big news is, we are unveiling a feature we've been working on for some time — Achievements.
I wanted to do this feature right, and further, I wanted it easier to read than both EQ2Players, and the in-game Achievements window. I hope you'll agree that we've accomplished that!
Go ahead and head over to EQ2U and check out the new Achieve tab on each character.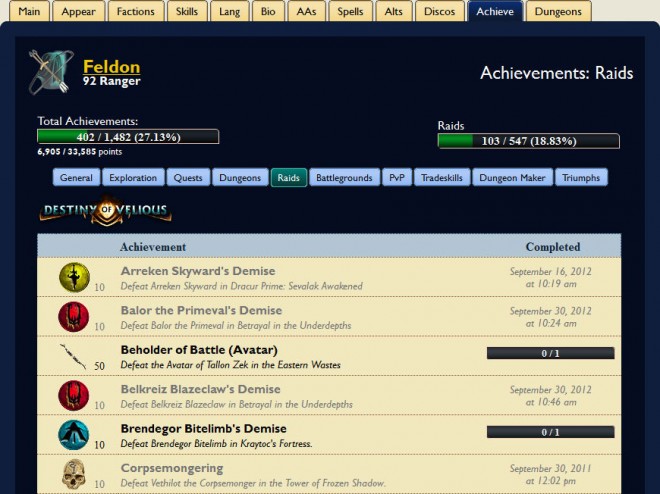 This is just the first public release of Achievements. After SOE Live, we will be working on some additional features which our testers have suggested such as filtering by level, hidden, and completed. Spoiler Alert: EQ2U lets you see Achievements which are normally hidden (they're indicated with a special icon).
A video of the Data Feeds panel, and the Powerpoint presentation which will be shown will both be available on Eq2Wire shortly after the event is over.
Trackback from your site.