SOE Live Schedule for Android, Windows Phone 7, Palm, and BlackBerry
If you have attended past Fan Faires and are an iPhone user, then you are likely already familiar with Greg "Rothgar" Spence's Fan Faire iPhone app. Greg developed this app in his extremely limited spare time and has maintained it over the past two years. If, however, you are an Android or Windows Mobile user, you've been waiting for your own app for going on 3 years now.
Greg developed his Fan Faire Schedule app for the iPhone because that's the device he owns. He's always been eager for others to step up and make their own apps for Android, Windows Phone, Palm, BlackBerry, etc. Our own Dethdlr, Chief Architect of EQ2U, took that challenge and in just 2 days of development, was able to choose "all of the above".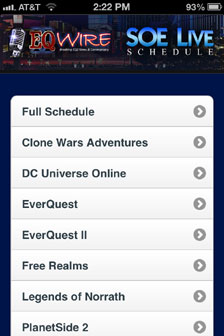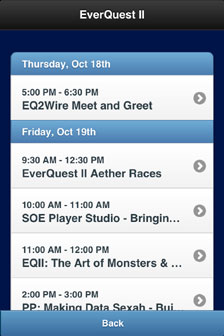 jQuery Mobile


The EQ2Wire SOE Live Schedule "web app" is really just a skinned website that uses same data as the official SOE Live app, but was designed to work in offline mode as well. And because it was built using jQuery Mobile, it works on a large number of mobile devices. There are some limitations to jQuery Mobile however. Performance and smoothness of the app, especially on older devices, isn't perfect. Further, the "My Schedule" feature has not been replicated as it would have required more time to build and test the on-device storage code than was available.
How to use SOE Live Schedule?
There is no app to "install". Simply visit the EQ2Wire SOE Live Schedule website on your phone and the data will be cached to your device. The site was designed to function both online and offline which means once you've visited the site once, it should continue to function even when your mobile device is in airplane mode.
We recommend saving a Bookmark and adding that Bookmark to your  Home Screen. This will add an icon to your phone that lets you view the SOE Live schedule immediately.  (On some devices, unless you save it as a Bookmark first, you won't get the proper icon added to your Home Screen.)
If your phone has a QR Reader App, you can simply point it at the graphic below and you'll be taken to the appropriate website: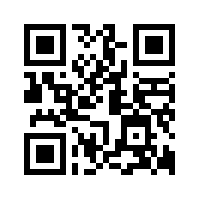 If you have any questions or comments about the SOE Live Schedule app, please post a comment below!
Trackback from your site.