SOE Live: Fan Faire Forever T-Shirts, Vendors, and More

We're now just 5 weeks away from SOE Live in Las Vegas and news of different sorts are starting to trickle in. New this year are Player Panels, and the creators of EQ2Wire and EQ2U have submitted 2 panels which we hope to participate in. That's in addition to the wall-to-wall coverage that only EQ2Wire can provide.
Fan Faire Forever!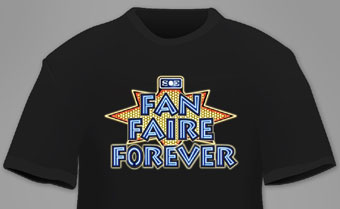 Not everyone just loves the new name of SOE's annual player convention, SOE Live. A few of us rabble-rousers planned to stage a quiet rebellion with unofficial T-shirts. Then a long-time player contacted SOE and they were an incredibly good sport about this and granted a limited license to use the old Fan Faire name and logo on this occasion.
Get a Fan Faire Forever T-shirt! (sold at cost)
Bally's Hotel Rate — North Tower
If you haven't yet reserved a hotel room for Fan Faire SOE Live, you'll be happy to note that rooms in the newer and more convenient North Tower have now been reduced to the same price as the South Tower. Procrastination rules!
SOE Live Vendors
Danicia took to Tweeter to ask:
Who do you think should be a vendor at SOE Live? Got any favorite geeky shops who we could invite? Artists? Authors?
Hopefully legendary fantasy artist Larry Elmore will make a return appearance.
Trackback from your site.