EQ2Talk Ponders "We're Players Too", Touts EQ2U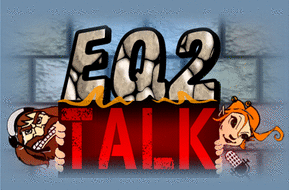 In the most recent episode of EQ2Talk, Dellmon and Aliscious address SOE's notion that "We're players too". From SOEmote to Dungeon Maker to loot distribution and balance, the podcast asks the question — Why are so many things missed, overlooked, or left behind?
Also in the podcast, EQ2U gets its moment in the sun as Ali compares it to EQ2Players. I encourage listening to the whole podcast, but if you want to focus your attention on the bit about EQ2U, that's from 41 minutes until 46 minutes with a brief followup from 52:30-53:30.
From EQ2Talk.com:
If the summer sun has you all hot and sweaty, cool off with a little Frostfell in July, as Dellmon and Aliscious talk about things they'd like to see come to EQ2. What past game changes have fulfilled your hopes? Which ones fell short of expectations? Download this episode to find out if your hosts share any of the things that made your list. Also, some listeners chime in with their thoughts, and play along with Are You Smarter than a Dellmon.

Click here to listen to Episode 48
Tags: eq2talk
Trackback from your site.