StationCash: 500SC Bonus (Cards Only)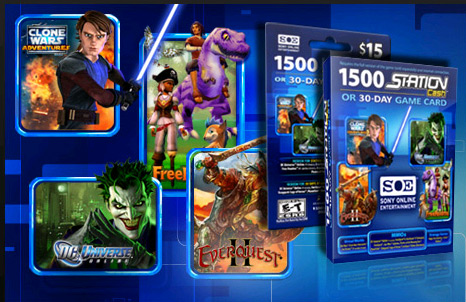 This weekend, if you redeem $15 StationCash cards, you will be credited with 1,500SC plus 500SC bonus, for a total of 2,000SC. This works out to a 33% bonus — or if you prefer, a 25% discount.
After Double and Triple StationCash weekends, 50% off sales, and Rebates, it will be interesting to see how much pent up demand is satisfied with the relatively meager discount this go-around.
From the EQ2 Forums:
Buy any SOE Pre-Paid Game Card at your local retailer and when you redeem from June 8th through June 10th*, you?ll get a 500 Station Cash Bonus!

Click here to find a retailer near you and stock up on game cards!

Redeem in-game or at soe.com/gamecards

*Redeem between 12:01 AM PDT 6/8/2012 and 11:59 PM PDT 6/10/2012
Time Zone Conversions
PDT: June 8 @ 12:01am ~ June 10 @ 11:59pm
EDT: June 8 @ 3:01am ~ June 11 @ 2:59am
BST: June 8 @ 8:01 ~ June 11 @ 7:59
CET: June 8 @ 9:01 ~ June 11 @ 8:59
Trackback from your site.