StationCash: Cure and Luck Potions Pay-to-Win?
UPDATE from Piestro:
The potions were put in on accident and quickly removed. If we do decide to reintroduce consumables we'll certainly mention it.
Taking a page from Disney, SOE placed certain StationCash Marketplace items on hiatus a while back into a so-called "Brell Serilis vault". This type of scheduled demand is intended to drive sales and create pent-up demand when said items are returned to the market. An example is the Prowler mounts first introduced just over 2 years ago.
We paid little attention to the unlocking of the vault announcement as SOE already does a fine job of communicating their weekly StationCash deals, to the exclusion of almost everything else about EQ2.
As a result, we missed two items which were previously EQ2X / Free-to-Play-only which slipped through. Cure Potions that cure 500 levels of any kind of detrimental, and Luck Potions that increase coin drop amounts from mobs by 25% (we are attempting to confirm if this includes or excludes treasure chests containing platinum).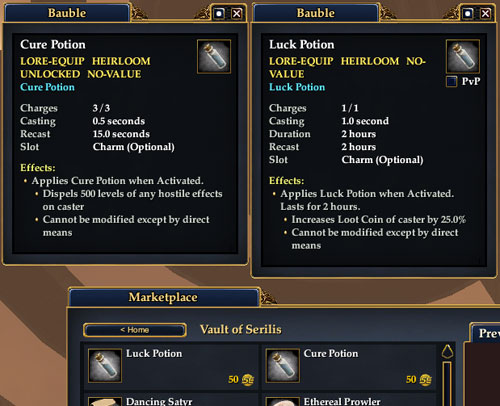 The Brell Serilis Vault items are available until May 6th (we're not sure if that is May 5th @ 11:59pm PST, or sometime on May 6th). Discuss this on the EQ2 Forums
Trackback from your site.