Launchpad Goes Haywire: Streaming Deleting 'Paks' Full Download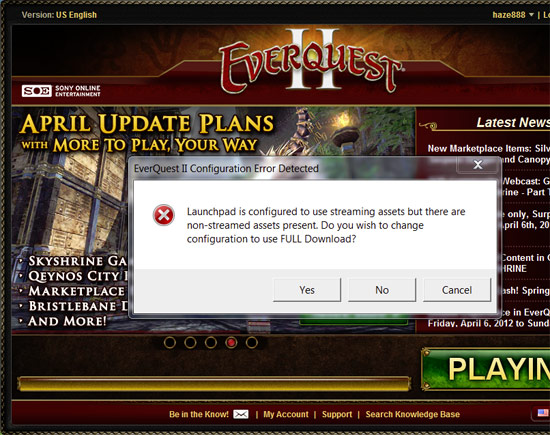 This screenshot foretells the coming of Gozer, and a rather unfortunate crossing of the streams.
Image provided by Cloudrat

NOTICE: This problem has now been resolved. Please run the patcher again, making sure to select "Full Download" in the Game Version setting.
I suggest you make a backup of your \EverQuest II\paks folder to another part of their hard drive prior to running the patcher.
Crossing the Streams
EverQuest II players have long had a love-hate relationship with the Streaming launcher. For new players, it is a fantastic way to hop into EQ2 after a brief download and try out the game prior to committing to an 8-12 hour download. But for existing players, the 10-15 minute waits between new zones, not to mention missing geometry, enemies, and even clothing tends to wear on the nerves after a while.
In the past, we've been able to steer clear of the Streaming launcher, sticking with a Full Install of the game via a purpose-built launcher. However in the past few days, the unified Launchpad 4 has been spazzing out for some players, switching unaided from Full Download to Streaming.
However what is of grave concern is some players are reporting that Launchpad 4, after slipping into Streaming mode, is DELETING the Full Download "Paks" folder, necessitating an 8-12 hour download of the entire game (13GB of data). This has the potential to cost players on prepaid and fixed bandwidth plans serious dollars.
Switching Launcher
Switching back to Full Download isn't complicated. Here's the procedure:
Click on "Advanced Options" (the crossed wrench and hammer icon)
Click on "Game Verson"
Check the "Full Version" box.
Close the Launcher and restart it.
The problem is the change isn't "sticking".
Tags: launcher
Trackback from your site.