Fan Faire 2012: October 18th – 21st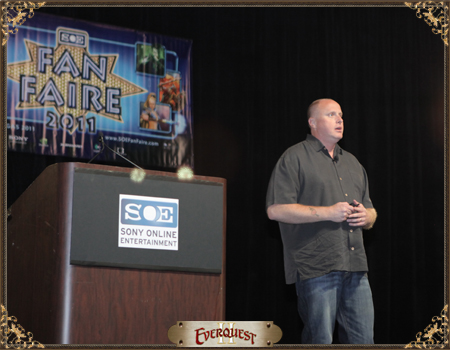 We wish we could concretely confirm that this year's Fan Faire will take place on October 18-21st. We wish we had twenty-seven 8×10 glossy pictures with circles and arrows and a paragraph on the back of each one as evidence. But we don't. So this will be one of those preponderance of evidence cases.
Last August we talked about the poll asking which three fall dates SOE should settle on for Fan Faire (since Bally's had already been locked up tight for the usual suspects of July and August).

Players overwhelmingly chose October 18-21, 2012. Then there was silence. And more silence. Then SOEFanFaire.com started redirecting to SOE.com which we talked about.
Linda "Brasse" Carlson mentioned in a podcast (I believe SOE Podcast #126) that if you had seen the poll thread, you already knew the Fan Faire 2012 dates.
Today, the vagueness continues.
Danicia has posted this on the SOE Station forums in the Fan Faire section:
Greetings all!

I promised on Facebook that I would start a thread just to let you know that we ARE working on the announcement & information. I cannot confirm the dates right now, but you can go back and look at the poll to see how the community voted.

If you have any particularly strong ideas about what you would like for 2012 (or don't like from previous events), you can leave those thoughts here.

We have been working on some great new things and brainstorming on how to make other favorite things better.

I know this message is cryptic and probably a bit frustrating with the lack of detail. Just know that we are ALL super excited and plan on bringing you an update shortly. For my own part, I'm chomping on the bit, as it were, in anticipation of the announcement.
At this point there's no need for further pussyfooting around. Fan Faire 2012 is October 18th-21st.
Now What?
If you are an extreme early bird, you can probably call Bally's hotel in Las Vegas and ask if they have a group rate for SOE Fan Faire. There's likely no point in looking at airfare yet. The median price for flights generally falls at about 45 days out from the event.
We remain puzzled as to why SOE is holding onto this information. Once again, we must fill in the blanks.
Will EQ2Wire Be There?
That's a good question. In 2008, 2009, and 2010, Fan Faire was about covering the news, the events, the announcements. There was always a chance that what we heard at Fan Faire wouldn't materialize or would change somehow between the announcement and the reality, but generally speaking, the information was spot-on. This changed with Fan Faire 2011.
Yes, the broad strokes were the same. We got Beastlords. We got a revamped Freeport. We got Mercenaries. But the devil is in the details, and the details were dramatically different. Do development and design teams need to be flexible and able to adapt to change? Absolutely! But it would have been nice to know that everything we were being presented was still in the "might change drastically" concept stage.
This, compounded with the inconvenient timing of an October event, compounded with the daunting prospect of staging two days of work at a personal cost to me north of $3k is giving me pause. I'll have a better answer as we get closer to the event.
Trackback from your site.